InSAIghts - An Online Masterclass based on Sathya Sai Baba's Teachings
InSAIghts is an initiative launched by the Young Adults of the Sathya Sai International Organisation, which organises unique spiritual masterclasses aimed at sharing the divine, insightful, and practical teachings of Sathya Sai Baba. These online masterclasses will cover a broad range of topics and will be delivered by speakers who have had personal experiences with Sathya Sai Baba. The sessions are open for attendance to all devotees worldwide.
Speakers, Theme & Timings
Various themes would be discussed at length and conducted through the online sessions. Sessions are held on the third Saturday of each month at 12pm (UK). The duration of each session will be approximately 75 minutes and each theme will be conveyed over the course of three months.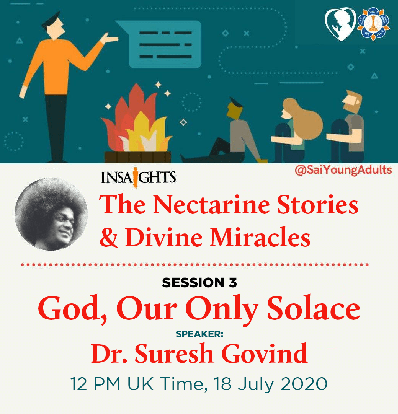 The third theme is entitled 'The Nectarine Stories and Divine Miracles'.
The speakers for this theme are:
Mr. Jagadeesan Jegasothy
Mr. Alvin Leo
Dr. William Harvey
Ms. Aparna Murali
Dr. Suresh Govind
The details of the next workshop are as follows:
Session 3: God, Our Only Solace
Join us on Saturday, 18th of July at 12.00 pm (UK)
"Only when there is faith can you achieve anything in life."
– Sathya Sai Baba, Divine Discourse – Anything In Life Can Be Achieved With Faith In God, 26th December 2007.
Please email us at: insaights@sathyasai.org if you have any questions or require help with registration.
Video of Session 1: Why Fear When I Am Here?
Enjoy videos from the previous theme, Bhajans: Treading the Path of Devotion through Music
Session 1: Bhava, Raga & Tala - the Ingredients for Bliss, by Brother Muthu Kumar
25 January 2020
Session 2: Bhajans and the Devotion Path
22 February 2020
Speakers: Brother Nikhil Koushik & Brother S. Kumar
Session 3:Chanting the Divine Name - The Prescribed Sadhana for Kaliyuga
28 March 2020
Speakers: Brothers Harish, Rushi, Keerthi  & Subheer