2009 Walks for Human Values
Walks for values in 2009 are taking place in 6 Australian Cities, New Zealand, 9 Canadian Cities, and 4 American Cities. The Walks may differ in their content, but the goal is same: to highlight the values we should be living by —truth, right conduct, peace, love, nonviolence, and other subvalues of these major five Human Values. These Walks generally involve other community groups and have presentations at the beginning and end of the Walks. T-shirts may be sold, and along the way there may be booths with arts and crafts dealing with human values, displays of human values, refreshments, and so on. No money is solicited! Instead, people are asked to pledge to try to live up to one or more of the human values in their lives.
Australia – Canada –Hong Kong– Malaysia – New Zealand – US – History – about the logo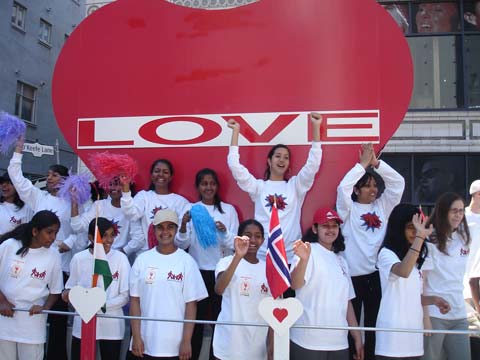 Walk for Values in Canada: www.walkforvalues.com/
Walk for values are as follows.
Toronto, 31 May, Downtown Toronto. This walk took place as planned. Hundreds of people walke, with three large floats. After the Walk there was an hour of speeches, dances, singing about human values. Various community and spiritual groups participated.
Calgary, 6 June, in the heart of Calgary's district
Edmonton, 6 June, downtown, close to City Hall. Here is an announcement of the event and a
and a short article on the CTV webpage after the event.
Kingston, 31 May, Confederation Park. About 40 people participated. The Mayor inaugurated the
event and proclaimed the day as "Human Values Day". Here is the proclamation.
Ottawa, 31 May, Parliament Hill. More than 250 people took part, including a member of the
Provincial Parliament, The day was proclaimed WALK FOR VALUES DAY by the mayor.
Here is the proclamation. Here is a short newspaper article on the walk.
Regina, Beautiful downtown Regina
Saskatoon, 31 May, around City Hall. About 40 people participated.
Winnipeg, 31 May. More than 160 people took part, at least 1/2 from community organizations.
200 sapling of White Spruce were given away. The Minister of Sciece and Technology,
Energy and Mines attended, as well as a member of Parliament and some City Councilors.
Vancouver, 14 June
Some 50-60 groups are joining with Sai Organizations to Walk the Talk on Human Values throughout Canada.
---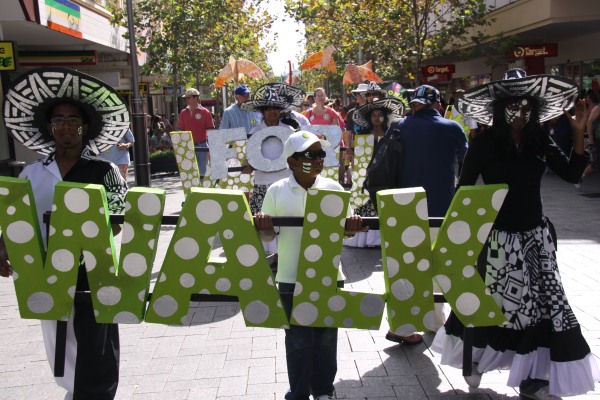 Walk for Values in Australia: www.nationalwalkforvalues.org/
Walks were held in on 28-29 March in cities:
Adelaide
Brisbane
Canberra
Melbourne
Sydney
Perth
Most started with sort speeches and presentations —perphaps the National Anthem—
and ended in a second place with further talks.
---
Walk for Values Hong Kong: /www.walkforvalues.hk/
The first Walk for Values in Hong Kong took place on 20 December 2009, on Victoria Peak -- the Peak Trail goes from Lugard Road to Harlech Road. This Walk for Values gave people opportunities to focus and think about Human Value. Each registered person pledged to practice a human value. The walk was a festive and fun event for children and adults alike.

---

Walk for Values in Malaysia wfv.saicouncil.org.my/
The first Walk For Values in Asia was held in Malaysia on10 May 2009. Read about it
and see some videos of it on the website given above. Here is a page from the onlne "The Star" citizen's blog.
---

Walk for Values in New Zealand www.walkforvalues.co.nz/
This Walk for Values took place on 21 March.
This page tells the story of the Walk in New Zealand, with lots of pictures, taken from H2H.
Here is a short article from the New Zealand Herald.
---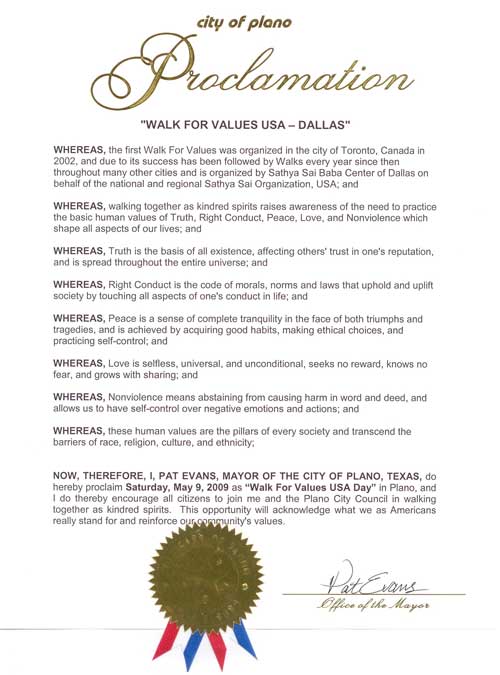 Walk for Values in the United States walkforvaluesusa.org/
Right click to to download a short movie on Walk for Values and its Meaning
Houston, TX. 2 May. Houston Mayor declares 2 May Walk for Values Day.
This page tells the story of the Walk in Houston, with lots of pictures. Here is
and article from the Houston Style Magazine and a pdf of the Houston's mayor's page.
Click for pdf of proclamation
Dallas, TX. 9 May. Plano Mayor declares 9 May Walk for Values Day.
This page tells the story of the Walk in Plano (Dallas), with lots of pictures.
Click for pdf of proclamation.
Austin, TX. Details coming soon
New York, NY. 21 June, Battery Park. 500 people participated, each pledging to practice a value of their choice. The opening ceremonies include reading the letter from Mayor Bloomberg and a talk by Grand Marshall Phil Gosselin. Danny Garcia, a 64-year-old who has been walking for peace since 1966, covering some 25,000 miles, flew from Virginia and helped lead the Walk. After the walk, the Renaissance EMS band played (Renissance EMS is an after-school program teaching music and sports), and a plaque was presented to its leader, Mr. Harris, for his contributions to the community. The word one heard afterwardabout the Walk was: inspiring.
Letter from Mayor Bloomberg.
Seattle, WA. 28 June, Volunteer Park
---
The Walk for Values was first conducted in 2002 by the Sathya Sai School in Toronto. Since then the walk has spread to many other cities throughout Canada with citizens walking for values, cities declaring 'Human Values Day' and mention of the Walk in the Canadian government legislature. It's a grass-roots affair; devotees see the value in it and then organize a Walk in their own cities. They get the local citizens and government involved. Last year, in Toronto, 4,000 people took part! This event is growing and growing and is making people of aware of the need to live by human values such as love, truth, peace, righteousness, and nonviolence
---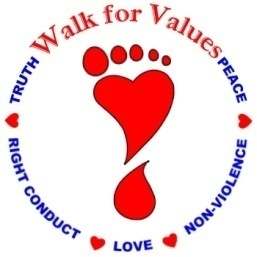 Every step counts!
This logo is rich in symbolism.
• The five toes represent the five universal values of truth, right conduct, peace, love, and nonvoiolence, which are in essence values without borders, transcending barriers of caste, class, country, and creed and offering, when they are practiced, the sweet promise of individual and social renewal.
• Shaped as a heart, the sole of the foot symbolizes love, the undercurrent of all human values and the core of our being.
• The heel of the walker's foot, drawn as a tear-drop, symbolizes the compassion that moves every human heart to serve and reach out to fellow beings and nature.
• In its totality, the Walk for Values symbol has come to represent the long overdue march of the human race toward individual, social, environmental, and global reformation, starting with one human heart at a time!
The logo represents the participants' commitment to 'Walk the Talk'.
.