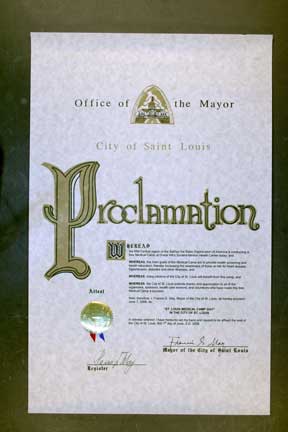 On 7 June, the Mid-Central Region of the Sai Organization held a medical camp in St. Louis, USA. The camp provided free health screen and health education to the under privileged community. fifty registrants benefitted from this service.
Below is his proclamation --click on the proclamation on the right to see an enlarged version (412KB). And you can read more details of the camp and what it achieve from this pdf file.
The Mayor's Proclamation
WHEREAS, the Mid-Central region of the Sathya Sai Baba Organization of America is conducting a free Medical Camp at Grace Hill's Soulard-Benton Health Center today; and

WHEREAS, the main goals of the Medical Camp are to provide health screening and health education, thereby increasing the awareness of those at risk for heart disease, hypertension, diabetes, and other illnesss; and

WHEREAS, many citizens of the City of St. Louis will benefit from this camp; and
WHEREAS, Tthe City of St. Louis extends thanks and appreciation to all of the organizers, sponsors, health care workers, and colnteers who have made this free Medical Camp a success.

Now, therefore, I, Francis G. Slay, Mayor of the City of St. Louis, do hereby proclaim September 11, 2005, as:
"St. Louis Medical Camp Day"
IN THE CITY OF ST. LOUIS
In witness whereof, I have hereunto set my hand and caused to be affixed the seal of the City of St. Louis, this 7th day of June, A.D. 2008.