Sathya Sai Sadhana of Love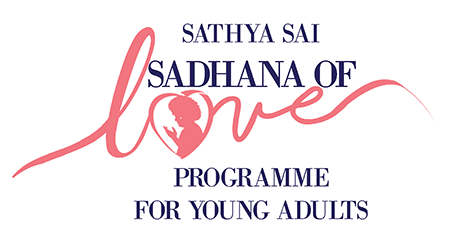 In January 2019, the International Young Adults (YA) Sadhana of Love subcommittee launched a pilot programme to assist YAs from around the world in fostering spiritual transformation through the practical understanding of love, sadhana and Self-realisation. In total, there were six online modules centered on the four steps to Self-realisation described by Sathya Sai Baba: Self-confidence, Self-satisfaction, self-sacrifice and Self-realisation. The pilot programme culminated with a three-day residential programme in Prasanthi Nilayam in July 2019
We are pleased to announce the launch of the Sathya Sai Sadhana of Love Programme for Young Adults (SSSOL) for 2020. The SSSOL aims to spiritually empower Young Adults from all over the world to take an in depth learning experience into Sathya Sai Baba's teachings and use the knowledge gained to support the Sathya Sai Centres and Groups from around the world. The programme also aims to foster a positive and accepting environment where YAs are able to discover the path to Self-realisation by sharing their experiences on how to utilise Sathya Sai Baba's teachings in the midst of the various challenges faced in today's modern world.
Sathya Sai Sadhana of Love Programme 2020
Registration for SSSOL has commenced and will close on 9th April 2020:   SSSOL 2020 Registration
Online Modules (May 2020-October 2020)
Module 1: Sathya Sai Baba's Life and Teachings: The four pathways to God
Module 2: Self-confidence: Understanding your true Self
Module 3: Self-confidence: Demonstration in daily life situations
Module 4: Self-satisfaction: Deriving joy from the divine Self and managing desires
Module 5: Self-satisfaction: Practicing discrimination on desires that take us away or towards God and leading a spiritual life
Module 6: self-sacrifice: Seeing God in all and the benefit of greater good in life
Residential Programme, November 2020 in Prasanthi Nilayam
Module 7: self-sacrifice: Understanding of the six inner enemies and ways to transform them as worship of God
Module 8: Self-realisation: Awakening to the complete realisation of our true Self
Module 9: Self-realisation: Leading a spiritual life as a Sai Young Adult in today's modern age
Download Sadhana of Love:
 Download Sadhana of Love PDF      Sadhana de Amor (en Español)
For more information about the Sathya Sai Sadhana of Love programme, please contact us at: sadhanaoflove@sathyasai.org
Start your Sadhana of Love journey now.
#ReflectTheLove and let the Loving Lord shine through you as His beacon of love and light in the world.