In 1975, my wife and I attended a public meeting about Sri Sathya Sai Baba in our hometown in the USA. We were awestruck hearing about His mind-boggling miracles, profound universal teachings, and the healing powers of Hisvibhuti(Holy ash).
Divine Physician
At that time, our son was two weeks old, born with health issues, but too young to receive the needed surgery. We began giving him vibhuti regularly. When he was nine months old we took him to the hospital for preparatory screening for the surgery. The doctors came out to the waiting room and told us to our elation that there is nothing wrong with our son, and there is no need for surgery! We were greatly relieved and thankful. We knew it was a miracle and wondered about the power of vibhuti. Within another year, we were delighted that our daughter was born. We soon attended the local Sathya Sai Baba Center for the first time. Though we love them now, the bhajans sounded too foreign to us then, we could not connect, and so we discontinued attending the Center.
Though we knew of Swami, He had not yet revealed Himself to our hearts, it was a sort of lukewarm relationship. But, when He established His connection in our hearts, it was in a very endearing manner.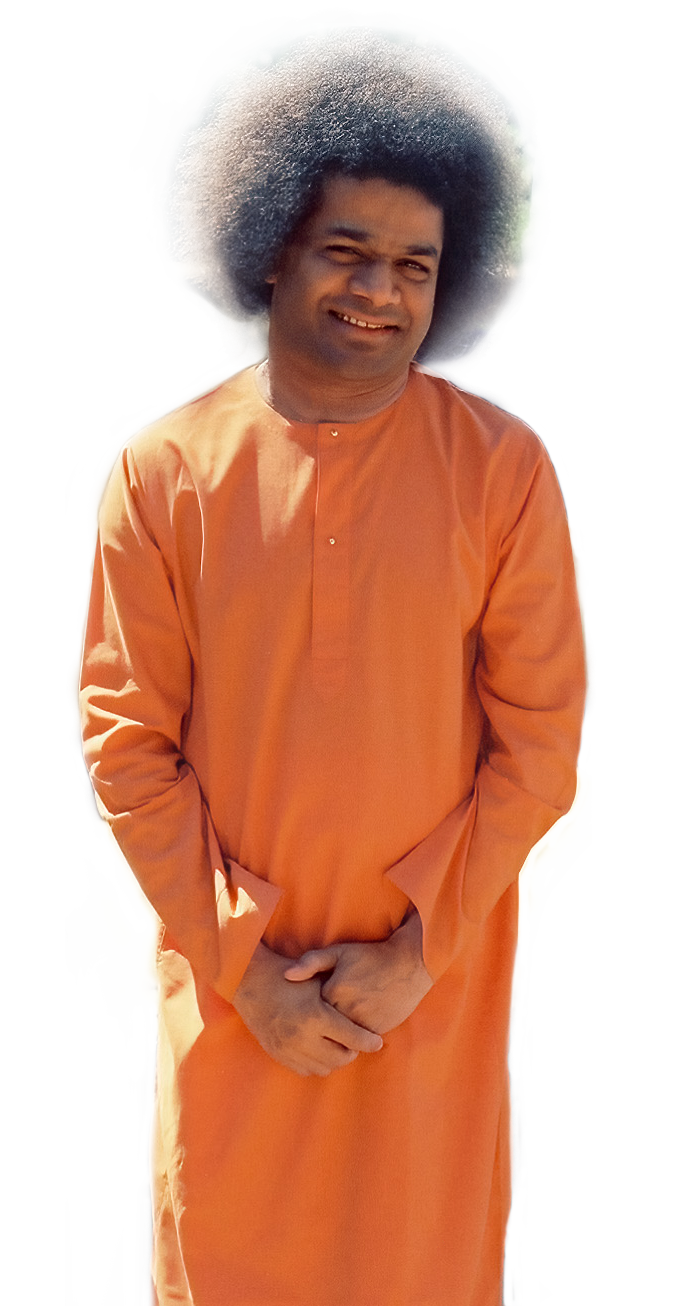 He touches our hearts with His Bhajans
During those years it was not unusual to see a box of community give-away or recycle items at the entrance of a grocery store. As I passed by one day I glanced at the box, and on top was an audio cassette tape, "Sathya Sai Baba Sings the Bhajans at the Fiftieth Birthday Golden Jubilee." We brought it home and played the tape; It was as if the skies opened, and rainbows came out as we thrilled to the sound of His voice singing the bhajans. We played the tape non-stop for several days. We immediately began singing bhajans at our Center meetings; it no longer sounded foreign, because of the heart-to-heart connection. I played the guitar. We began reading anything we could find on Sai Baba. What I read I knew undoubtedly was true: that He is an incarnation of the Universal Absolute, an Avatar (God in human form). We realized that striving from lifetime to lifetime for Self-realization is for mortals like us, and an Avatar is there to help us and guide us to realize our true goal and identity. We began having dreams of Swami and experiences in meditation as our love toward Him grew. I knew He was God. We met devotees who had been to Prasanthi Nilayam, some for long periods. It wasn't long before we wanted to visit India to see Him.
In July 1981, we found ourselves sitting on the sand, the holy grounds of the mandir in Prasanthi with our eyes seeing the Lord (darshan) each day. Our longing to see Swami was so intense that no hurdle seemed too high. To come to Prasanthi Nilayam, we had to sell our newly built home, I had to quit my special education teaching position, and we came to India with our children ages 3 and 5, intending to stay a long time at the feet of Swami. We attended darshan eagerly, hoping for good chances. We rejoiced every minute in His presence and joined all devotees in observing His every move. We attended talks for Westerners given by Professor N. Kasturi and his son Mr. Murthy. We strictly followed the ashram guidelines by staying inside the ashram and eating food at the South Indian canteen, even though it was too spicy for our western taste.
"I Have More Work to Do with You"
At first, Swami paid a lot of attention to our children. We have many sweet memories of those precious days. For my son's birthday, Swami wrote the Sanskrit letter 'OM' on the slate he held out. On another day, He blessed him with a plum. He tossed candy to our daughter. Gradually, Swami taught and guided us ever so gently and subtly. Swami's first look directly in my eyes came after some days in darshan. At the instant of His gaze, I knew I should resume my career in special education.
We were slowly being transformed by Swami, despite the physical challenges of losing weight from the lack of food we were accustomed to. We reluctantly came to the realization that we had to return home sooner than expected, but we also had the conviction that we were forever devoted to Swami whatever life may bring. The night before we left Prasanthi Nilayam, Swami came to me in a dream, and said, "You may be going, but I have more work to do with you."
With Swami's grace, we returned home, I re-entered the special education field, my wife began teaching, and we soon were able to build another house. We attended Sathya Sai Center meetings. Over the years, I had the wonderful opportunity and privilege to serve in various leadership positions in the SSSIO. By the late 1990s, we started annual visits to Prasanthi Nilayam for Swami's darshan, then twice a year during the 2000s.
"Follow the Conscience"
In late September 2000, the ten-day festivities of Dasara (Navarathri) were in full swing at Prasanthi Nilayam. The Human Values conference organized for educators around the world had just concluded. The organizers of the conference were given privileged seating in front of the interview room door. Being my first time sitting on the veranda, I felt an indescribable peace and deep spiritual bliss.
On October 1, 2000, Swami called me and a doctor sitting on the veranda for an interview We sat on the floor by His chair. He spoke to us lovingly, revealing His omniscience. Every word and small talk that we were privileged to hear were so precious that they were etched permanently in my memory.
Swami enquired, "How is your work?"
I answered, "You mean, special education?"
Swami said, "What is special education?"
I said, "Education for the disabled."
Swami said, "It is just bookish knowledge."
I replied, "Should I stop?"
Swami advised, "Two years."
I felt that the 'bookish knowledge' applies to my work. I continued to work for another seven years. At the end of each year, I followed my conscience in deciding whether to work another year. When a retirement package of "two years" additional credit was offered, I retired. Swami's statement came true.
Swami said to the doctor, "I came to you in dreams."
The doctor replied, "Yes."
Swami then said to me, "Dreams."
I responded, "Many times, Swami." Swami motions to His chest, "Not imagination."
I had numerous dreams with Swami, but occasionally my mind would doubt whether it was real. He cleared that doubt.
Later Swami said, "Body is a water bubble, don't follow the body. Mind is a mad monkey, don't follow the mind. Follow the conscience," pointing to my chest. Toward the end of the interview, He told me, "You are divine." In my heart, I heard, "ask for pada-namaskar." I said, "Swami, may I take pada-namaskar?" Swami, "Yes, take." As I was touching His feet, He blessed me.

Time has passed. In 2022, I continue to keep my connection with Swami, as they say, "keeping the coal in contact with the live ember." I am filled with gratitude to Swami for revealing His Divinity and enabling me to recognize my own, for bringing us into His orbit, for His teachings, and for the chance to help spread His message to the world through the SSSIO.
Dr. Tom Scovill
USA
About the Author:
Dr. Tom Scovill first visited Swami in 1981. He holds an Education Doctorate and lives in California, USA. Tom is a retired educator who worked for 32 years in teaching children with disabilities and administration. He is a member of the SSSIO Education Committee and also develops content for the website www.sathyasai.org. He served earlier as the President of Region 7 (Northern California and Nevada) of SSSIO, USA. Dr. Scovill has trained many teachers in Sai Spiritual Education in Northern California. 
References:
First published in Eternal Companion Vol. 1, Iss. 6