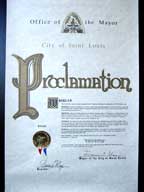 11 September 2005 was the day of a Sai Public Meeting in St. Louis, Missouri, USA. In recognition of Sathya Sai Baba and His Works, the Mayor proclaimed this day to be Sathya Sai Baba Day. St. Louis has a population of over 350,000, with a metropolitan area of over 2.5 million people.
Below is his proclamation --click on the proclamation on the right to see an enlarged version (600KB).
The Mayor's Proclamation
The City of St. Louis has been apprised that Sri Sathya Sai Baba is celebrating his 80th Birthday; and

WHEREAS, Sathya Sai Baba is one of the most revered spiritual teachers in the world today whose life and message are inspiring millions of people throughout the world to turn God-ward and to lead a more purposeful and moral life; and

WHEREAS, Sathya Sai Baba was born as Sathya Narayana Raju in Puttaparthi, a remote village in the state of Andhra Pradesh in Southern India. At the age of fourteen, he proclaimed his mission: to bring about the spiritual regeneration of humanity by demonstrating and teaching the highest principles of Truth, Right Conduct, Peace, Love and Non-violence; and

WHEREAS, Throughout his life work, Sathya Sai Baba has established an educational system which includes primary and secondary schools and an accredited university, offering undergraduate, graduate and doctoral degrees with no fees to the students. He has also established four hospitals, two of which provide advanced tertiary care and The Sri Sathya Sai Organization; and

WHEREAS, The City of St. Louis is pleased and honored to recognize Sri Sathya Sai Baba for all of his humanitarian work and extends best wishes to him for good health, peace and happiness as he continues his journey along life's path.

Now, therefore, I, Francis G. Slay, Mayor of the City of St. Louis, do hereby proclaim September 11, 2005, as:
"SRI SATHYA SAI BABA DAY"
IN THE CITY OF ST. LOUIS
In witness whereof, I have hereunto set my hand and caused to be affixed the seal of the City of St. Louis, this 11th day of September, A.D. 2005.