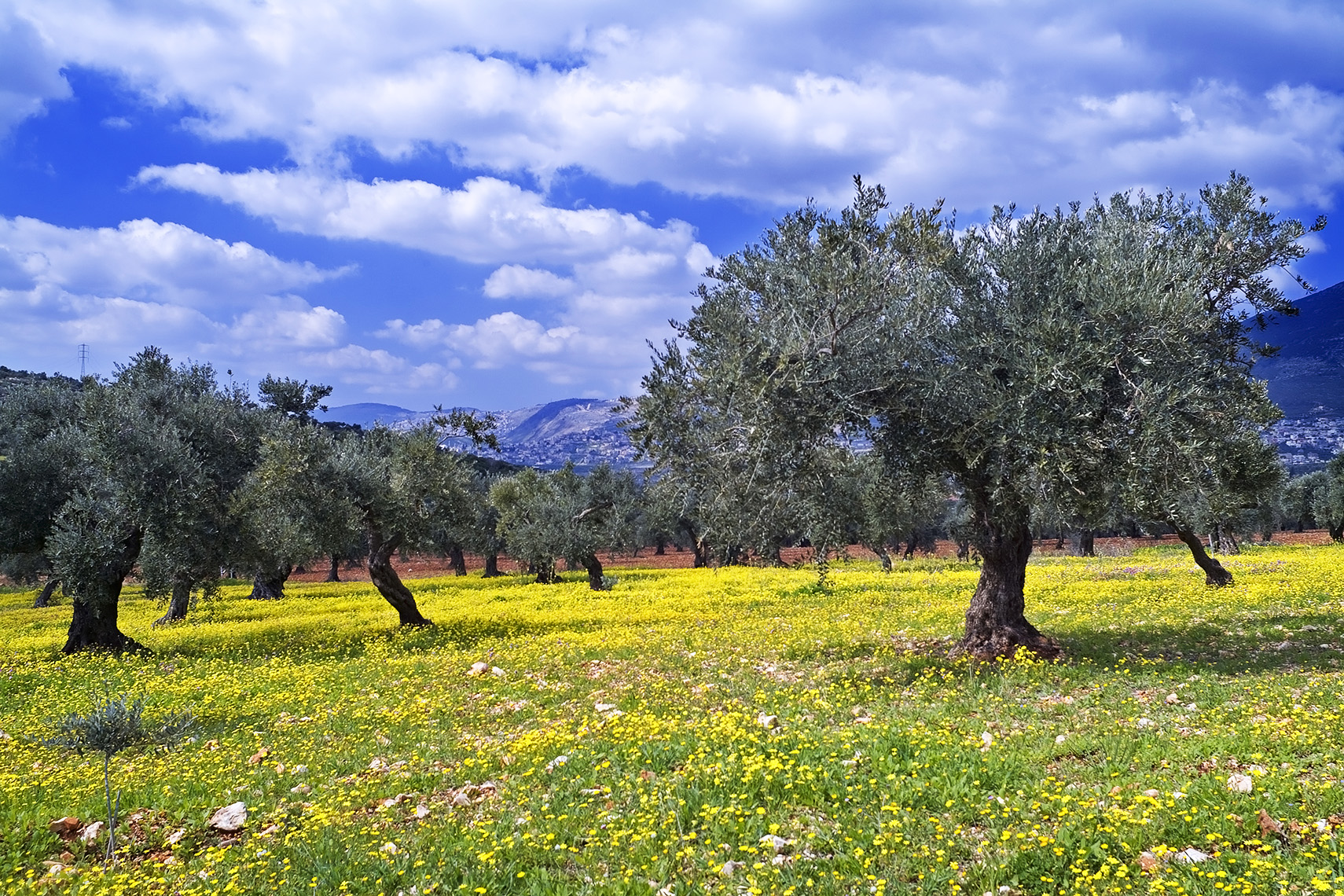 Zone 6
Zone Activities
Zones 6 and 7: The Path of Unity
On September 17, 2022, members of the SSSIO in Zones 6 and 7 jointly presented a documentary video, "The Path of Unity," a comprehensive look at the rich cultural and spiritual history of Europe that portrayed the inspiring work of individuals who contributed significantly to music, art, science, religion, and philosophy. The journey, described in terms of paths of wisdom, service, and devotion, merged into 'One Path of Unity' as taught by Sri Sathya Sai Baba. The program, admired and commended by audiences all over the world, can be viewed here: https://youtu.be/UbA6Rd6TkpY

Bosnia and Herzegovina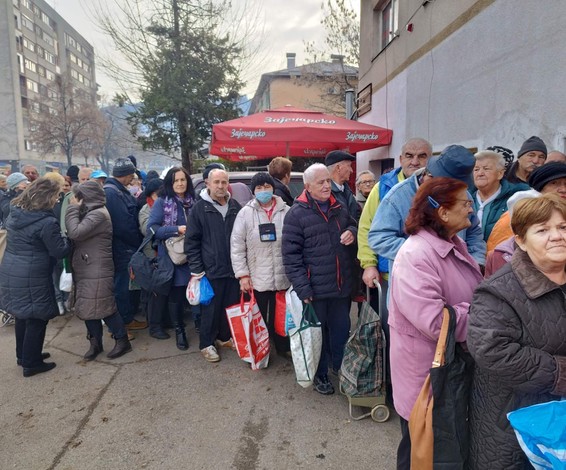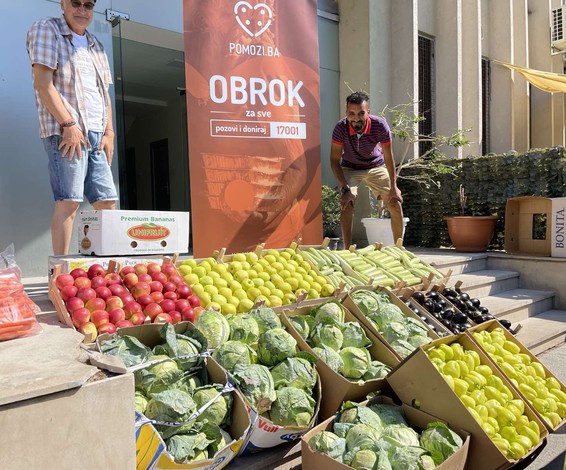 Over the last several years, SSSIO members delivered more than 1,400 kgs of vegetables and fruits to "Pomozi.ba", a humanitarian organization that distributes 600 meals daily to the needy. The loving service brought joy and happiness to the recipients and those engaged in service.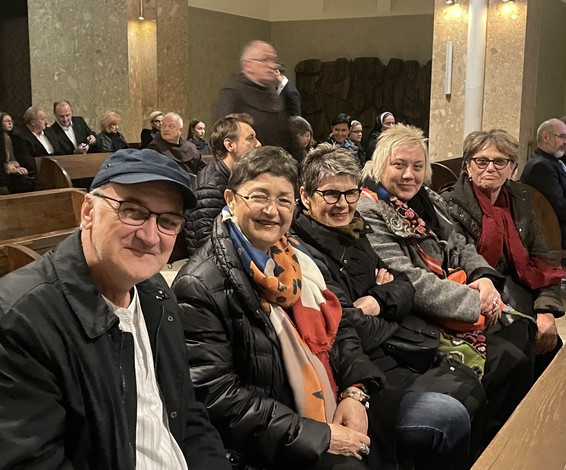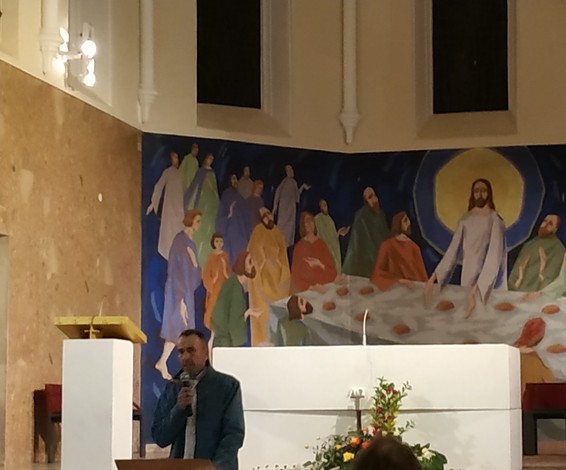 On November 5, 2022, the SSSIO of Bosnia & Herzegovina participated in an Interreligious Meeting organized by the national Franciscan community. In December 2022, SSSIO members participated in the "Yoga is Music" session, where people from various spiritual organizations had a joyous time-sharing devotional songs of their faiths.

Croatia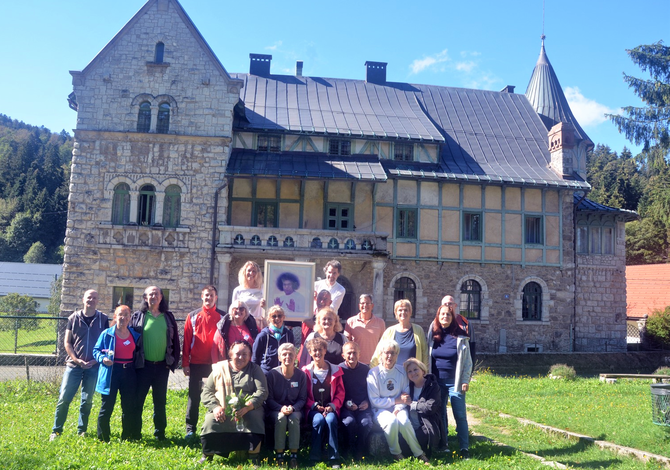 To deepen their faith, during September 9–11, 2022, 29 SSSIO volunteers from Bosnia & Herzegovina, Croatia, and Slovenia gathered for a regional retreat in a beautiful historic castle in Gorski Kotar. They enjoyed listening to inspiring talks and participated in workshops, meditation, prayers, devotional singing, and being in the midst of nature.

France
SSSIO members distributed food, hot drinks, and basic necessities to 20 homeless people on the streets of Paris??? every month.
Volunteers from France shipped bags of rice, sugar, flour, lentils, and soy to the SSSIO in Jaffna, Sri Lanka, for distribution to 107 low-income families in 11 villages.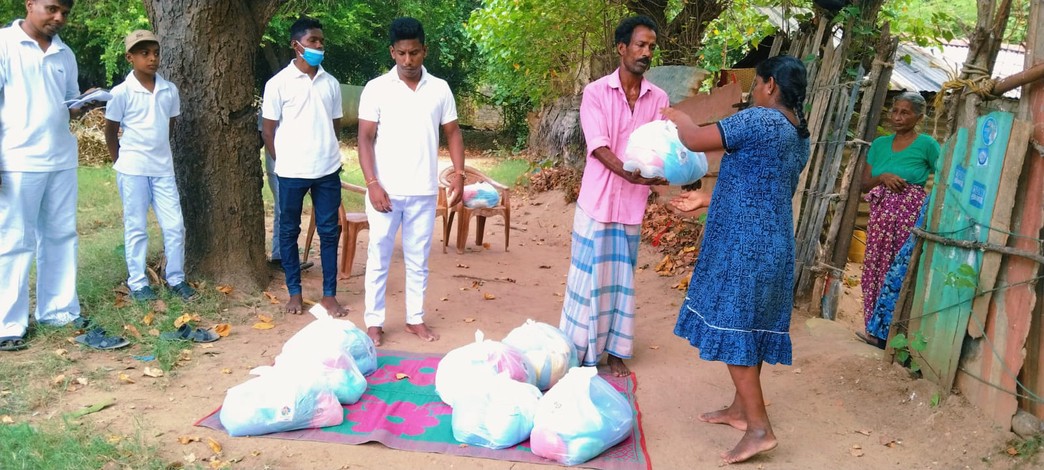 Greece

To help with their spiritual journey, 28 SSSIO members from Austria, Estonia, Germany, Greece, Italy, and the Netherlands participated in two events organized by the SSSIO in Greece at the idyllic venue Sai Prema, Markopoulo, near Athens. The 6th European Sai Values and Yoga Retreat was held between July 22 and 31, 2022, followed by the 11th European Sadhana Camp from August 5 to 14. The theme for both events was "The End of Wisdom is Freedom." The attendees participated in meditation, prayers, devotional singing, Veda chanting, yoga classes, the study of the Bhagavad Gita, study circles, and workshops amidst the tranquil settings.

Ireland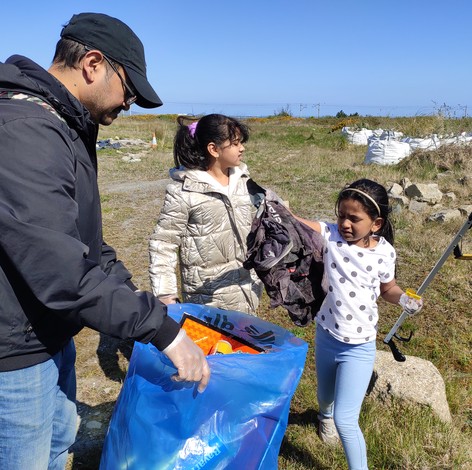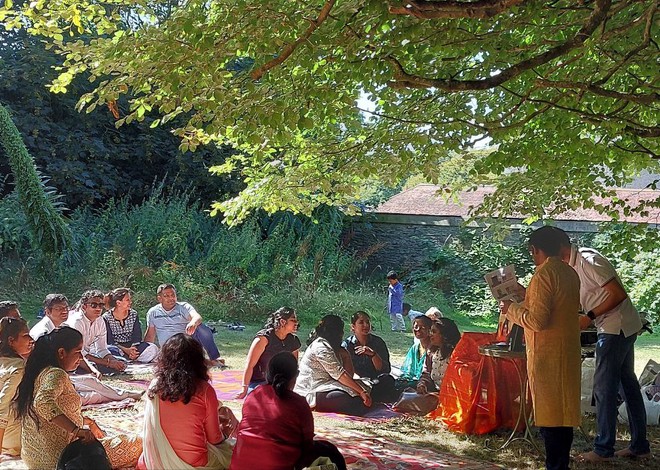 Swami said Nature is the vesture of God. Accordingly, on April 24, 2022, 20 members of the Sri Sathya Sai Centre of Dublin took part in a community clean-up project in Booterstown Nature Reserve on the South Dublin coastline to celebrate Earth Day and Mahotsavam. Some people cleaned the strand of washed-up debris, while others cleaned the salt marsh area, an important feeding and resting point for migrating birds.
On August 7, a one-day retreat was held at the Butlerstown Castle Cottages in the County of Wexford. Besides a morning devotional session in natural surroundings, the attendees enjoyed games, sharing experiences, and climbing the castle tower.

Israel
SSSIO members in Israel demonstrated love in action by engaging in selfless service activities, including tutoring English to Ukrainian students, providing mental and psychological support to people in need, and visiting patients in hospitals.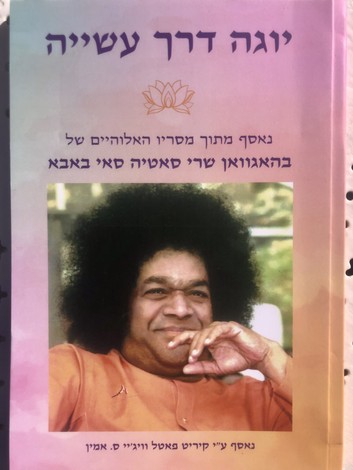 Furthermore, the book "Yoga of Action" – A Compilation from Divine Messages of Bhagavan Sri Sathya Sai Baba regarding service was published in Hebrew and distributed during various meetings, events, and gatherings.
SSSIO members also participated in regular devotional activities, both in person and online, in the Sathya Sai Centers of Tel Aviv and Ein Hod-North Israel and in a small new group of Russian-speaking people in Jerusalem.

Italy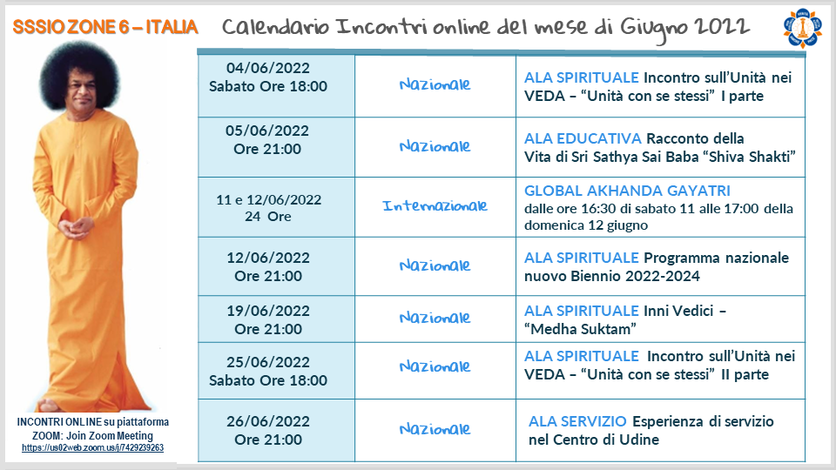 In 2022, many Sri Sathya Sai Centers and Groups resumed their in-person devotional and service activities, along with a few regional SSEHV meetings.
National meetings continued online, with about 35 to 40 participants in 48 online sessions during the year. The topics included Sri Sathya Sai Baba's life, the Vedas, the meaning of the Gayatri Mantra, the role and activities of the Institute of Sathya Sai Education, service programs, and sharing personal experiences with Sri Sathya Sai.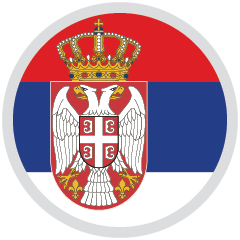 Serbia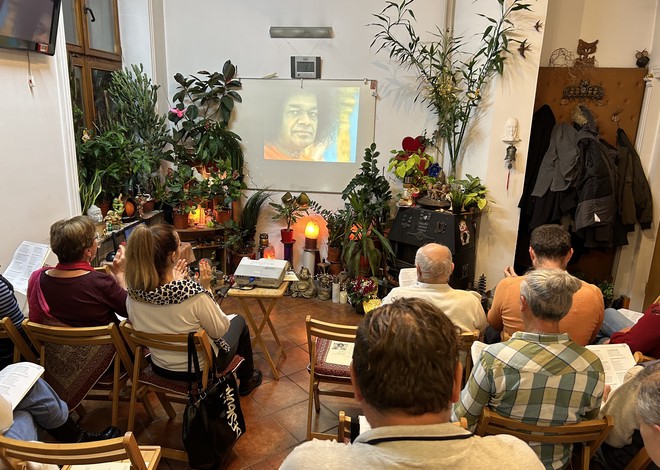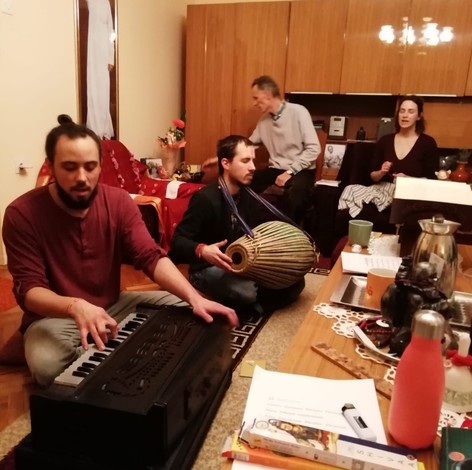 Sri Sathya Sai Baba's Birthday was celebrated on November 23, 2022. In Belgrade, SSSIO members gathered to chant prayers, listen to a short story from Sathya Sai's life and His teachings, and sing devotional songs in Sanskrit and the local language.
In Senta, they met to sing devotional songs and invited people from other organizations to join them.

Slovenia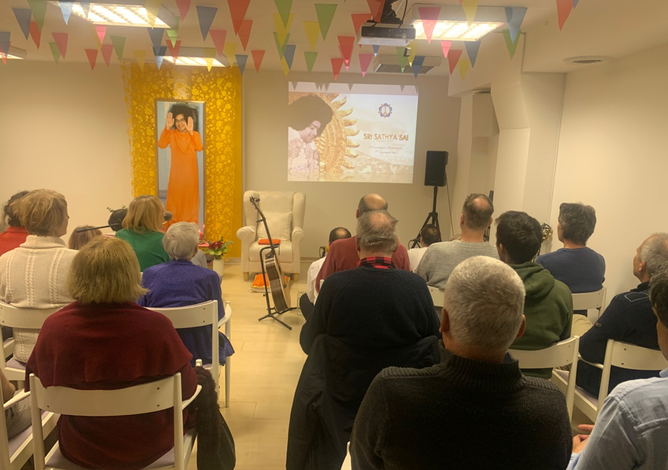 Since March 2022, the SSSIO in Slovenia has resumed in-person activities. Around 10 to 15 members gathered weekly to chant the Gayatri mantra 108 times, followed by devotional singing. Special occasions such as Human Values Day, Guru Poornima, Akhanda Bhajans, and Sri Sathya Sai Baba's Birthday were also celebrated with about 50 people in attendance

Spain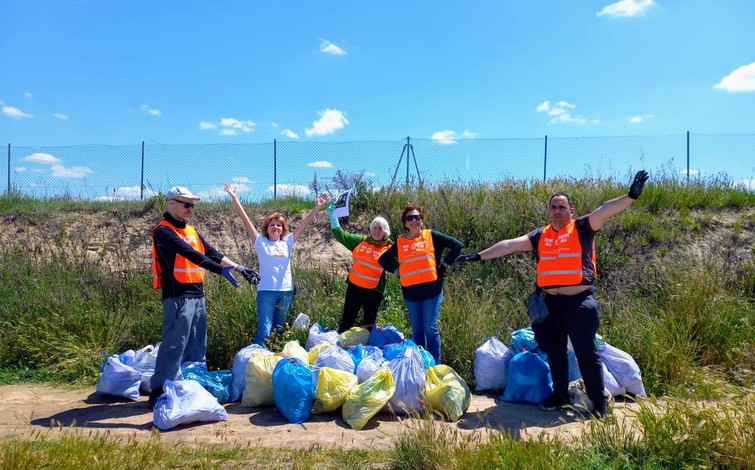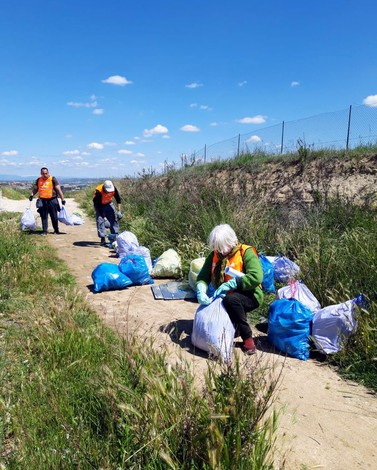 Six members of the Sathya Sai Centre in Madrid celebrated Earth Day in April 2022 by cleaning up a large open space near the Wanda-Metropolitan stadium. They removed glass, cardboard, and a lot of plastic.
The Education wing distributed booklets with stories related to Human Values and Envirocare.
Members of the Sathya Sai Centre in Santa Cruz de Tenerife distributed hot food such as rice and pasta with vegetables and lentils, along with bread, biscuits, milk, and juices four times

Switzerland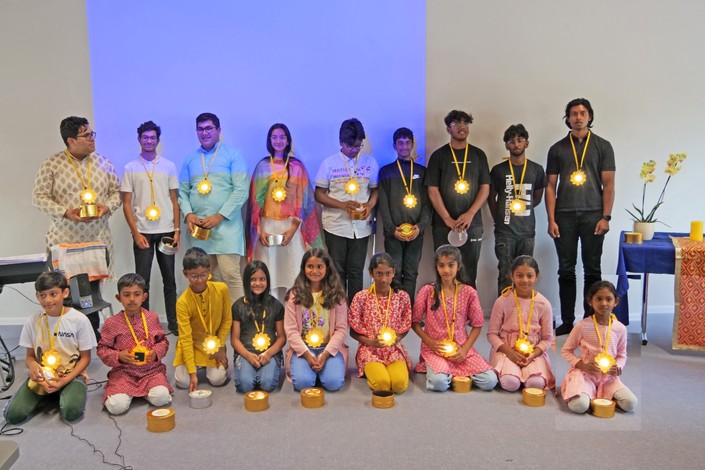 In May 2022, a poetry festival took place in Charmey. About 70 people attended this event, featuring talks, workshops, and a recital of original poetry by participants, including children.
The SSSIO launched its new website, www.sathyasai.ch, which provides inspirational information on Sri Sathya Sai Baba, His universal teachings, the Five Human Values, and news on the activities of Sri Sathya Sai Centers and Groups.

United Kingdom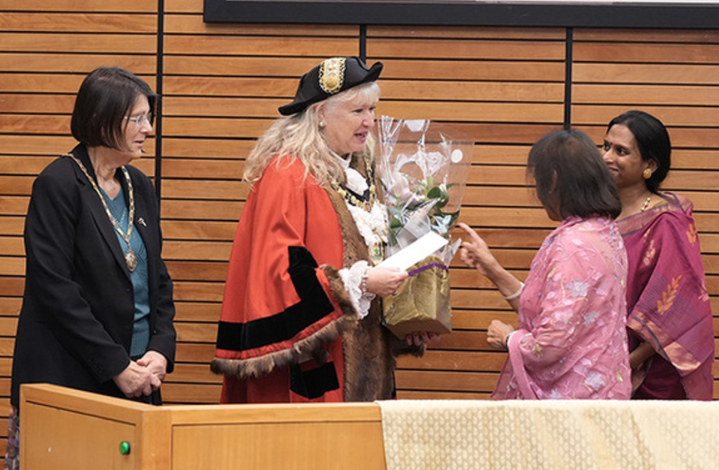 On November 19, 2022, 175 SSSIO members, their families, and friends gathered at the Harrow Council Chambers in London to celebrate Sri Sathya Sai Baba's Birthday. Since the event coincided with Interfaith Week, local faith leaders, including the Worshipful Mayor, Councilor Janet Mote, were invited to attend. Participants enjoyed the multifaith songs and beautiful devotional music, some rendered by young adults and SSE children. They also listened to an inspiring talk by the Mayor about Sri Sathya Sai Baba, His life, and His Mission and watched a video about the Divine Mission. Other SSSIO members gave talks on the Unity of Faiths and about the SSSIO and its global humanitarian work.