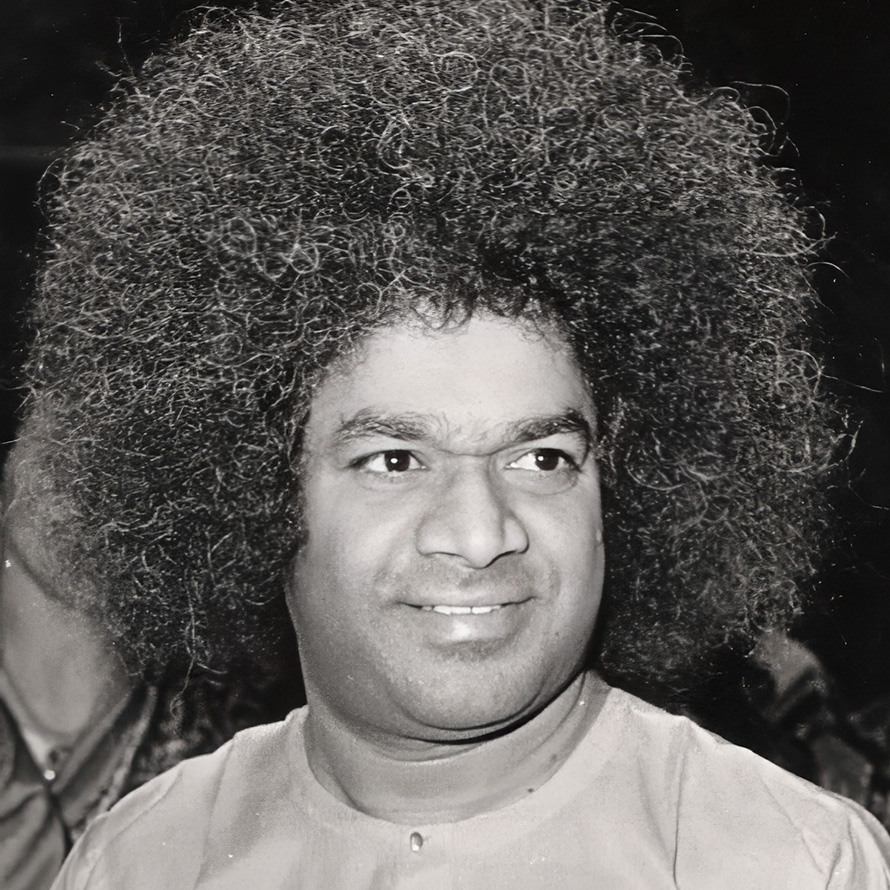 "Treat all as the children of one God. Whomsoever you may serve, consider you are serving God. Then you will experience the Divine. You are bound to have that experience soon. Never give up the Organization. Regard it as the breath of your life. This is real penance."
Sri Sathya Sai Baba, November 18, 1984
Dedication
With love, reverence, and gratitude, the members of Sri Sathya Sai International Organization (SSSIO) offer the 2022 Annual Report at the lotus feet of our dear Lord, Bhagawan Sri Sathya Sai Baba on the occasion of Guru Poornima 2023.
Sri Sathya Sai Baba is the incarnation of love. Baba says, "God is love; love is God; live in love." He exhorts us, "Start the day with love; fill the day with love; end the day with love—this is the way to God." Not only did He give us this message, a divine legacy, and the honor of being part of His mission, but He also gifted us the means to do this in the form of the Sri Sathya Sai International Organization (SSSIO). The SSSIO has served humanity and nature worldwide for six decades through various educational, medical, disaster relief, community service, and spiritual activities.
The 2022 Annual Report highlights a few SSSIO accomplishments and activities across 114 countries for the Calendar Year 2022. While more details are available in the online document, it is impossible to capture the innumerable, heartfelt actions of love, devotion, and sacrifice offered to our Lord by SSSIO members across the world.
On September 3, 2022, SSSIO volunteers from Trinidad and Tobago entertained 55 Visually Impaired Persons (VIPs) of the Blind Welfare Association of Trinidad & Tobago to a fun day at the beach on the island's east coast. This outing has become an annual event for the past 20 years.
In the USA, after a two-year hiatus due to COVID-19, the outdoor Bowery Food Service was resumed in late August 2022 in New York City. Spanning over 40 years, local SSSIO volunteers provide meals weekly to 150-200 homeless people as a token of love.
The Sathya Sai School in Guatemala won three awards for academic excellence. In addition, the talented volleyball team won second place at the International Central American Games in Honduras.
On August 26, 2022, at a special session, the Federal Senate of Brazil, the Upper House of the National Congress, honored the ISSE of Brazil for its efforts in developing values-based education in Brazil over the past 22 years. Congratulating the SSSIO for the honors, the Ambassador of India to Brazil, Sri Suresh K. Reddy, fondly recalled his family's close association with Baba.
In 2022, Sathya Sai College, Murwillumbah, Australia, received two awards – one from the local government for its commitment to the environment and the other from the New South Wales government for its resilience in coping with devastating floods in Australia.
A group of 70 New Zealand volunteers held a medical camp during October 17–21, 2022, on the remote island of Viti Levu in Fiji. The group comprised doctors, nurses, dentists, physiotherapists, pharmacists, a dietician, technicians, and general volunteers. During the five-day camp, 2,040 consultations were provided.
As part of a long-standing project, the SSSIO of Sri Lanka constructed six additional homes for low-income families and five more houses in Jaffna – for a total of 75 houses built by the SSSIO by 2022.
In Indonesia, in November and December, SSSIO members distributed tents, mattresses, baby clothes, milk, vegetables, and many necessities to more than a thousand people displaced by an earthquake in West Java. Inspired by the selfless service of SSSIO volunteers, a group of barbers gave free haircuts to 96 homeless people on December 24, 2022.
On November 19, 2022, 175 SSSIO members and others attended the celebration of Sri Sathya Sai Baba's Birthday at the Harrow Council Chambers in London. Prominent local faith leaders and the Worshipful Mayor Councilor Janet Mote also graced the occasion. The Mayor gave an inspiring talk about Sri Sathya Sai Baba, His life, His Mission, and His Works.
The ongoing conflict in Ukraine has caused much human suffering. When it started in March 2022, SSSIO members in Zone 7, with the support of SSSIO members worldwide, offered loving assistance and humanitarian relief to the displaced people. Volunteers in Poland, Lithuania, Latvia, Germany, Hungary, and the Czech Republic offered food, shelter, supplies, and medical assistance to refugees arriving there. The relief services continue in 2023.
In Zone 8, despite the challenges of the COVID pandemic, SSSIO volunteers continued to serve hot meals regularly to over 1,000 people and distributed warm clothes before winter. In October 2022, over 150 volunteers from seven regions across Russia served hot food to nearly 650 needy people.
Kenya recently experienced one of the most prolonged and severe droughts in the past 40 years, affecting millions. During November 20-25, 2022, SSSIO volunteers distributed over 500 hampers of food in the worst-affected part of Kenya. Each hamper contained enough food to feed a family of seven for one month.
During 2022, many online programs were held. The Online Events Chapter gives a summary of such programs with videos.
As an offering of love and gratitude, a massive tree-planting initiative to plant millions of trees has been launched as part of the SAI 100 Program. This report shows pictures of trees that are native and unique to each Zone as an expression of gratitude to Mother Nature.
Based on Swami's teachings, Sathya Sai Education gives equal importance to spirituality, human values, character, and educational achievements. In addition to the Sai Spiritual Education (SSE) program, 39 Sathya Sai Schools and 28 Institutes of Sathya Sai Education (ISSEs) share His message on education worldwide and also support Sathya Sai Education in Human Values (SSEHV) programs. This report briefly summarizes the educational activities in the Sathya Sai Centers, ISSEs, and Sathya Sai Schools of the SSSIO.
In addition, following the principles of Sai Ideal Healthcare, healthcare professionals around the world provided preventive and therapeutic health services for physical and mental illnesses through medical camps, medical clinics, mobile clinics, and health education, counseling, and immunization programs. This Annual Report presents highlights of such services.
Also, the Young Adults are an essential part of the divine mission. They actively engaged and enthusiastically participated in all aspects of SSSIO programs, including healthcare, education, social, and environmental services rendered worldwide.
We invite you to read the 2022 SSSIO Annual Report and share it with one and all. Sharing good things is also a service! We are indeed blessed and fortunate to participate in His divine mission. May we continue to serve Him with love, devotion, and dedication and redeem our lives by His grace and blessings.
Samastha Loka Sukhino Bhavanthu (May All the Worlds Be Happy.)
Jai Sai Ram
Narendranath Reddy, M.D.
Chairman, SSSIO
Special Reports
Zone Reports