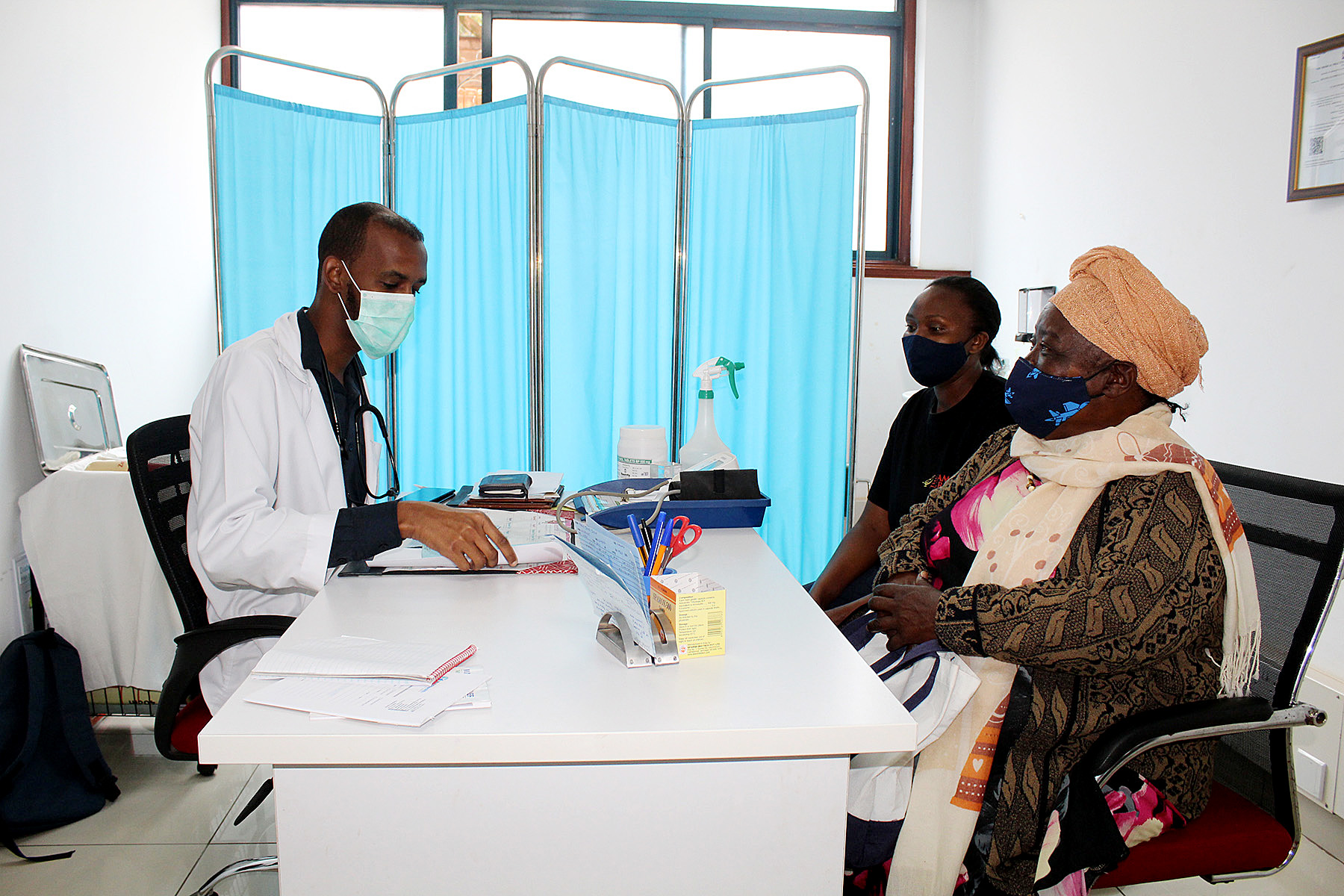 SSSIO Healthcare Mission
Overview
The SSSIO provides free and timely healthcare for those in need with adherence to the principles of Sai Ideal Healthcare. The SSSIO continues to practice, promote, and facilitate Sri Sathya Sai Baba's global healthcare mission.
Medical services are rendered in the following areas, and examples of various global humanitarian services are described below.
Medical, Dental, Vision, Health Awareness, and Veterinary Camps.
Mobile and Permanent Medical Clinics.
Specialized Procedures and Surgeries (including eye, dental, cardiac, gynecological surgeries, and endoscopic procedures).
Blood Donation Camps and Bone Marrow Drives.
Medical Relief following natural disasters.
Telemedicine patient care, education, and teaching programs for physicians and other healthcare professionals worldwide.
Health Education and Wellness Seminars for all members.
Zone 1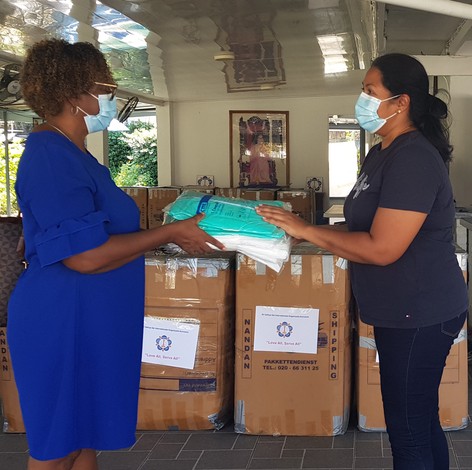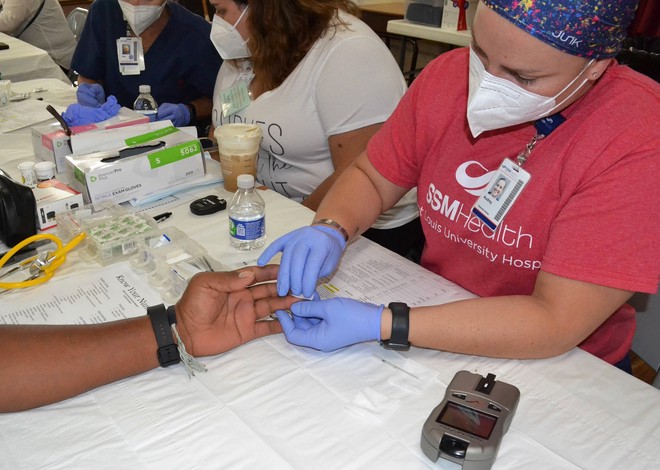 Suriname
"From Sai to Sai" National Service During the COVID-19 Pandemic
As part of Bhagawan Sri Sathya Sai Baba's 96th Birthday celebration, SSSIO volunteers in Suriname organized a national service in November 2021. The national service during the pandemic was called "From Sai to Sai." Twenty-three volunteers from four Sri Sathya Sai Centers distributed more than 235 food hampers, masks, and sanitizers at 17 retirement homes and disabled children's homes and to those living in homeless shelters. Volunteers gave medical supplies, sanitizers, and masks to 96 families. They also delivered more than 16 cartons of medical supplies and Personal Protective Equipment (PPE) to all five hospitals in Suriname, an outpatient clinic, and a few homes for elders.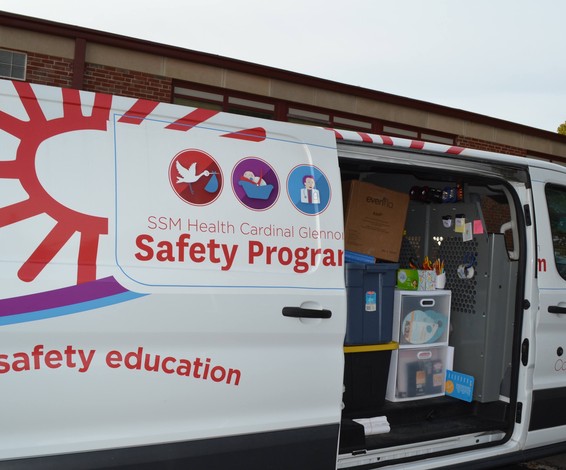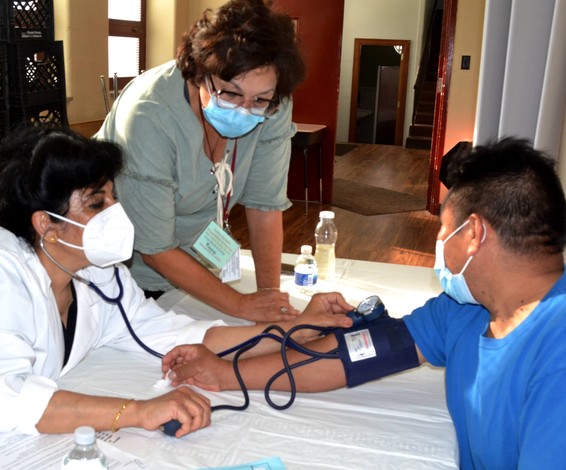 USA
Stress Management Workshop, San Antonio, Texas
SSSIO volunteers from the Sri Sathya Sai Centers of San Antonio, Houston, and Dallas, Texas, jointly offered an online 'Stress Management Workshop' to the Baha'i community in San Antonio on April 13, 2021. Doctors from Houston, Dallas, and Austin, Texas, organized the workshop in two parts. The first part focused on the source of stress and how it affected the body, mind, and spirit and was presented by two Sai medical professionals. The second part focused on the practical application of the spiritual teachings of Sri Sathya Sai Baba and Baha'u'llah to alleviate stress. Practical techniques to relieve stress developed by SSSIO volunteers were demonstrated. Attendees reported benefits from regular use of these techniques during and after the workshop.
Annual Health Fair (Health Screening & Health Education), St. Louis, Missouri
The Free Annual Health Fair was held at the Our Lady of Guadalupe Church in Ferguson, Missouri, on October 9, 2021, under strict COVID protocols. Services included weight, BMI, blood pressure measurements, blood tests, doctors' consultations, and flu shots. Some of the services were done outdoors, including the distribution of car seats. Approximately 25 individuals received medical care.
Zone 2A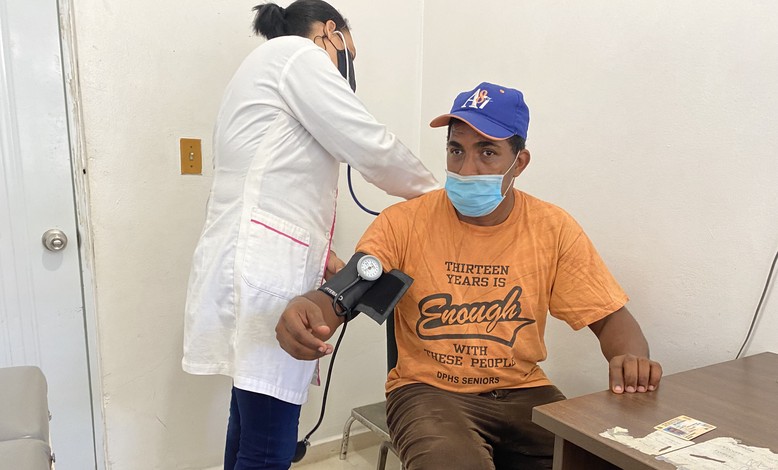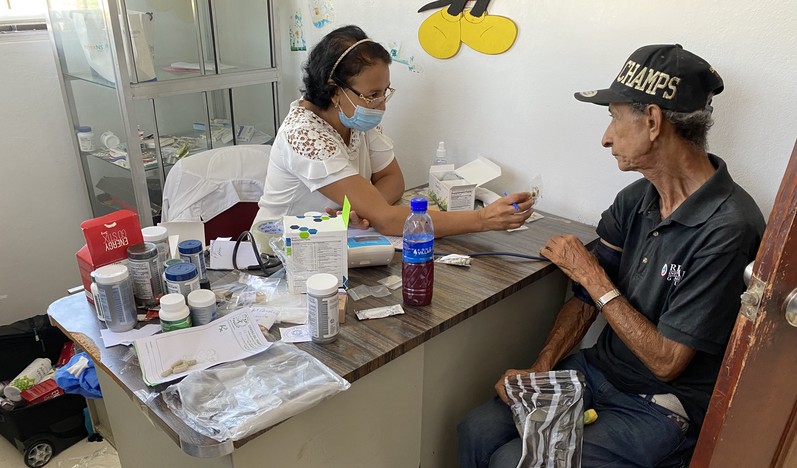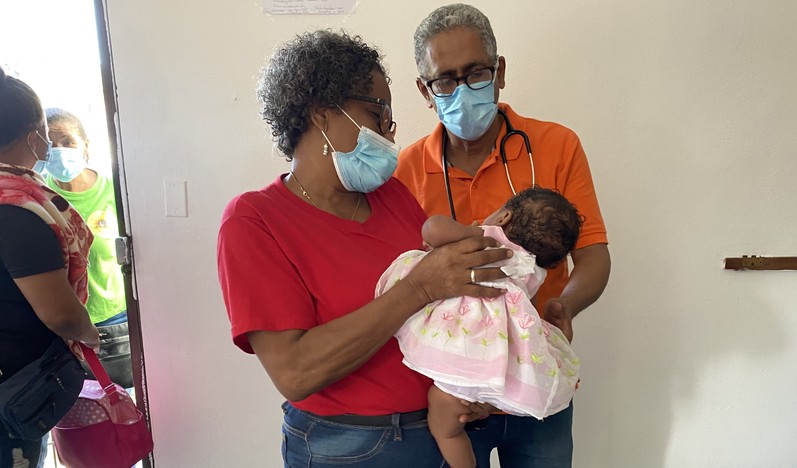 Dominican Republic
Medical Camp
On November 20, 2021, a Medical Camp was held in a low-income community called Katanga in Santo Domingo Este, Dominican Republic. A total of 126 patients were served by two general practitioners, two pediatricians, a psychologist, a family counselor, and ten support personnel. All the patients were registered two days before the event. Some patients received medications, and others were referred to a specialized hospital for consultation. The SSSIO donated food and clothing to needy families; 23 baskets containing daily necessities were distributed.
Zone 2B
Argentina
Gonzales Catan and Florencio Varela Communities Service
On October 25, 2021, 35 children and 4 adults were treated for common illnesses in the community of Gonzales Catan. In addition, children were dewormed, and vitamins were distributed.
The impoverished community of Florencio Varela, in the province of Buenos Aires, has received medical services every month; about 125 people were served in 2021.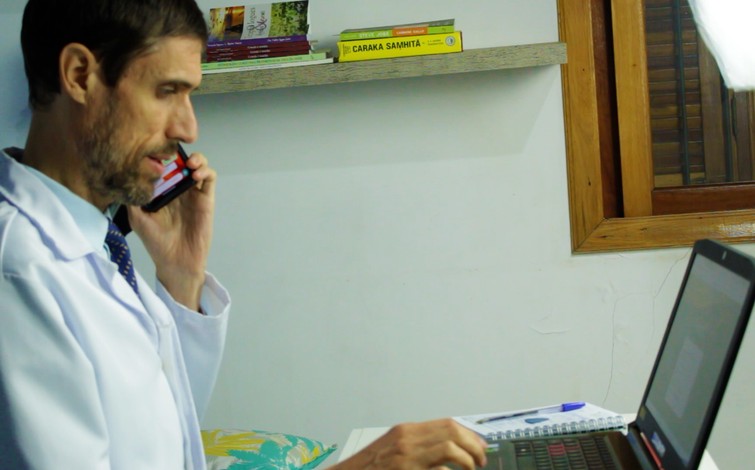 Brazil
Online Medical Care
In 2021, because of the Covid-19 pandemic, medical care was provided online based on the patients' needs and the availability of medical professionals. Approximately 450 healthcare service events were held in general medicine, psychology, physiotherapy, and nutrition. The SSSIO healthcare team consisted of 100 physicians, including SSSIO members and others, ten psychologists, two nutritionists, two physiotherapists, and 30 non-medical volunteers.
Paraguay
Cataract Surgeries
As an offering of love to Bhagawan Sri Sathya Sai Baba on the occasion of His 100th Birthday in 2025, volunteers from the Sri Sathya Sai Center of Asunción have set a goal of performing 1,000 cataract surgeries for the needy, free of charge. The project began in November 2019 with 26 cataract surgeries. Despite the COVID pandemic and lockdown, 80 surgeries were performed in 2020. In 2021, a total of 197 surgeries were performed. The team remains committed to continuing until they reach the goal of 1,000 surgeries.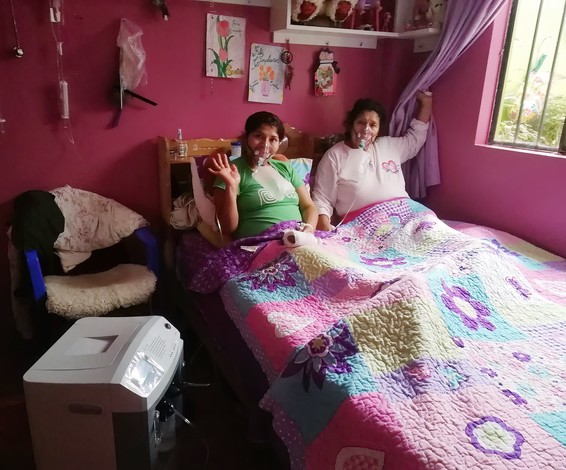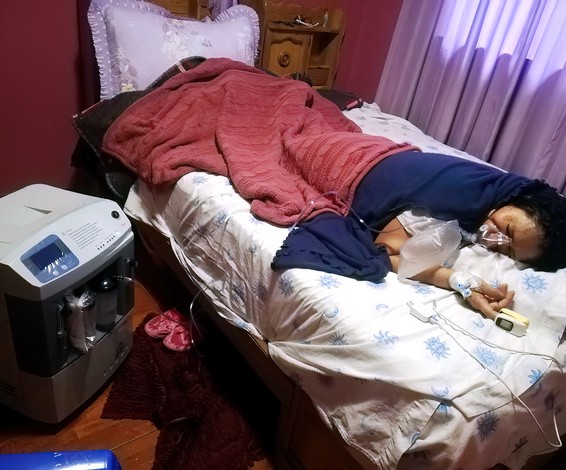 Peru
Supplying Oxygen Concentrators
The SSSIO of Peru provided 2 oxygen concentrators which supplied oxygen for 8 patients affected by COVID-19 during the year 2021. Each patient used the equipment for an average of 15 days, and this helped them in the course of their affliction.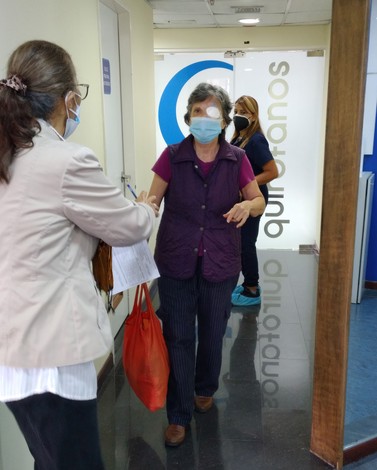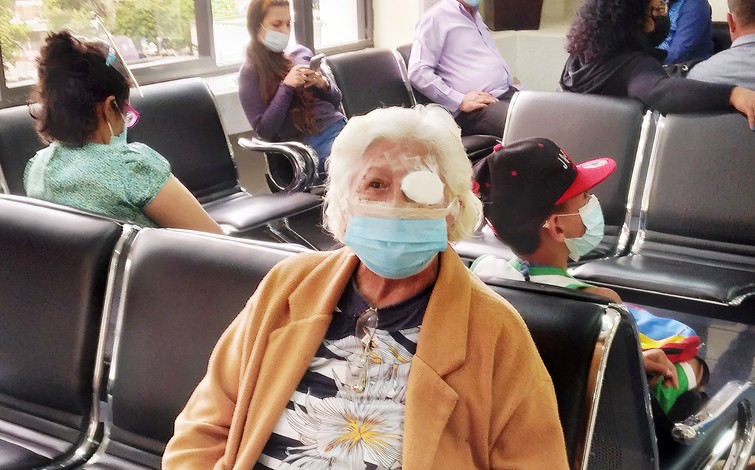 Venezuela
Cataract Surgeries
On November 26, 2021, as an offering to Bhagawan Sri Sathya Sai Baba's 96th Birthday, cataract surgeries were performed at the Institute of Ocular Microsurgery in Caracas on 21 patients by a medical team of 17 people, including ophthalmologists, the director of surgery, nurses, and assistants. Eleven SSSIO members provided logistical support for patients and families.
Each patient had eye surgery and pre-and post-operative visits. Meals were served to the patients and their families during their stay in the clinic. The SSSIO of Venezuela covered the costs of the surgeries, nursing staff costs, and venue costs. The doctors did not charge any fees.
Zone 3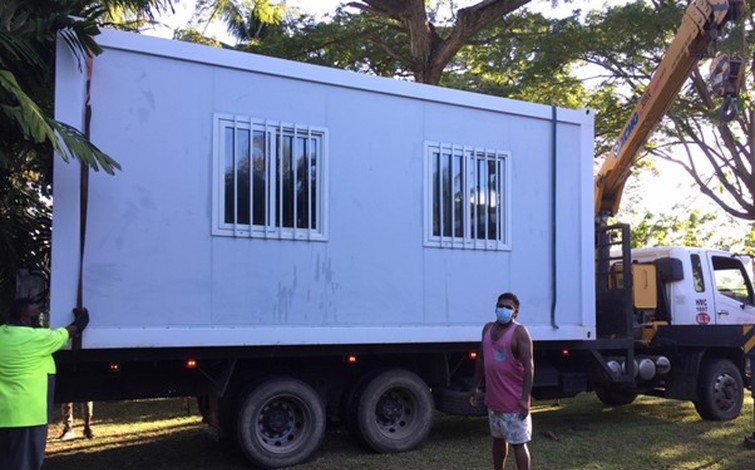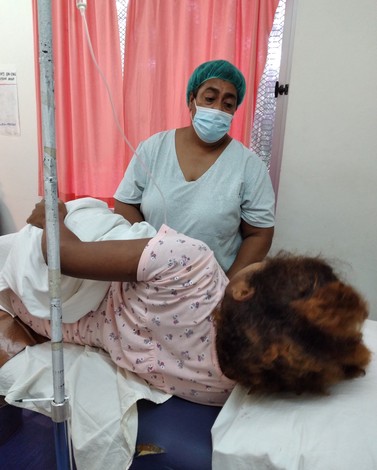 Australia
Medical Webinars
The lockdown provided an opportunity to develop novel healthcare projects, including remote learning through webinars by medical specialists. This project has been led by the Australian Sai Medical unit (ASMU) and has been very successful and well-received by medical students and doctors in Fiji. The webinars commenced in 2020 and have been sustained through 2021.
Mother's Day Classic Walk
The Ladies Wing of SSSIO Australia has actively participated in the annual Mother's Day Classic Walk for the past few years. Organized by the National Breast Cancer Foundation and Women in Super, the event promotes research and creates awareness about breast cancer. In 2021, SSSIO volunteers from NSW East, NSW West, Victoria East, Victoria West, and ACT regions of Australia participated in breast cancer awareness walks held at local venues.
Blood Donation
Commemorating the 10th Aradhana Mahotsavam on April 25, 2021, SSSIO volunteers of the Victoria Region West in Australia organized a Blood and Plasma Donation Drive. Twenty-seven volunteers donated blood at blood donor centers in Werribee and Bundoora. Between April and June 2021, 55 pints of blood were donated, along with plasma (114 units) and platelets (3 units).
National Healthy Ageing Webinar
On August 28, 2021, the SSSIO Australia Sai Medical Unit hosted a National Healthy Ageing Webinar where medical professionals provided helpful information on the management of common health issues. The program featured insightful talks on early recognition and prevention of stroke, the importance of diet, exercise, preventive health checks, and many other items.
Fiji
Viseisei Sai Health Centre (VSHC) – Emergency Birthing Unit for Lautoka Hospital
The Viseisei Sai Health Centre (VSHC) became an emergency birthing unit for Lautoka Hospital (Government Hospital) in 2021. The first baby was born at VSHC on May 6, 2021 – Easwaramma Day. In the subsequent 22 days, 78 babies were born at the Health Centre. Lautoka Hospital Maternity Unit was closed due to Covid containment requirements. SSSIO was able to purchase a refurbished facility to provide additional space with the assistance of SSSIO members.
The Lautoka Sai Centre provided meals and toiletries for the staff as they were quarantined on-site. Sai devotees made home visits to ensure that the children of quarantined staff at Viseisei were being looked after. In cooperation with a local organization called "Building Innate Resilience Through Hearts" (BIRTH), staff were provided counseling and support. SSSIO also provided various amenities for a comfortable working environment and supported the staff's efforts to provide care for the mothers in very challenging circumstances.
Assistance with drugs and medical supplies
The Fiji Ministry of Health needed assistance as consumables, drugs, and equipment were in short supply. The Zone 3 Sai Medical Unit responded quickly with funding and provided air freights for urgent supplies. This action ensured that Viseisei Sai Health Centre and health facilities in many medical districts received urgent supplies.
UPSM (Umanand Prasad School of Medicine) webinars
The Covid epidemic had a significant impact on all education facilities. The Zone 3 Sai Medical Unit has had a long-standing relationship with the Umanand Prasad School of Medicine. The visiting Sai medical teams from Australia and New Zealand have provided a day-long medical seminar for the students for over a decade. When the medical outreach was not possible due to Covid, virtual contact was maintained through a series of excellent webinars. Initially, these were organized through logistic support from the Australian Sai Medical Unit. In 2021 the Umanand Prasad School of Medicine & Health Sciences Students Association took over this responsibility.
COVID Relief
During the second quarter of 2021, the incidence of COVID-19 (Delta variant) had increased significantly in Fiji. Responding to a request from Senior Divisional Medical officers from local health centers, SSSIO volunteers from New Zealand supplied Personal Protective Equipment (PPE) and a cardiac monitor. They also assisted with the purchase of medical supplies in Fiji. A consignment from the Medical Unit of Australia containing PPE, syringes, oxygen flow meters, oxygen regulators, and single-use oxygen masks was sent by air to Fiji on August 31, 2021.
Blood Donations
In 2021, the SSSIO conducted blood donation drives where 360 units of blood were collected.
Month
Date
Venue
Division
Collection
January
Sunday, 17 January 2021
Courts Nakasi, Rups Complex, Nakasi
Central
34
February
Saturday, 13 February 2021
Sharma's Arcade, Nadi Town
Western
88
March
Saturday, 20 March 2021
Sigatoka
Western
66
Saturday, 27 March 2021
Lautoka
Western
42
Saturday, 27 March 2021
Tappoo City, Suva
37
April
Sunday 18, April, 2021
Courts Nakasi, Rups Complex, Nakasi
Central
24
December
Saturday 18 December, 2021
Sharma's Arcade, Nadi Town
Western
65
Friday 24 December, 2021
Legal Aid Commission Carpark
Northern
4
Total
360
New Zealand
Telemedicine
Sai Doctors from New Zealand and Australia provided free general consultations and specialist advice on an ongoing basis to patients in need in Fiji through the coordination of Fiji Sai Medical Unit.
Blood Donations
In October and November 2021, 8 persons donated blood.
Zone 4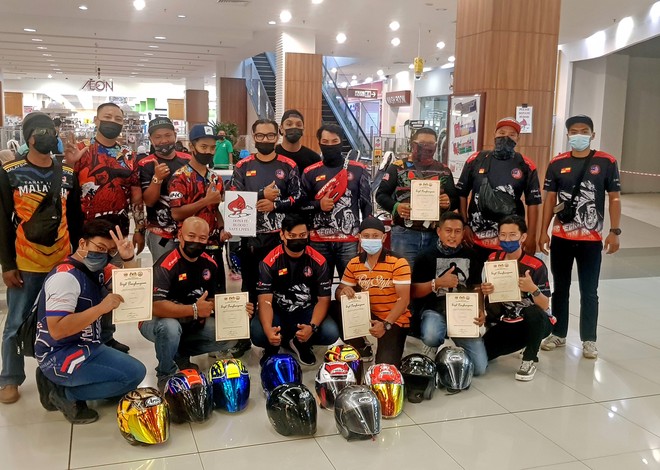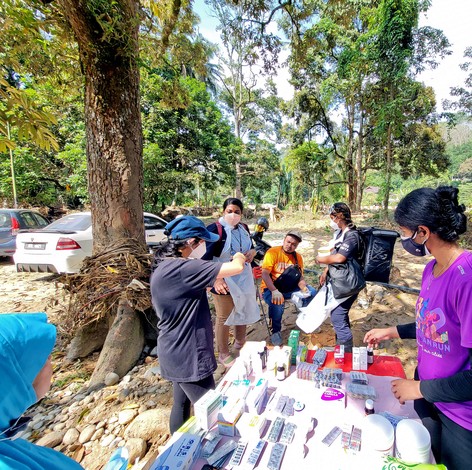 Malaysia
Blood Donation Camps
The SSSIO of Malaysia (SSSIOM) organized multiple blood donation camps and collected 4,607 pints of blood to help the country during the peak Covid-19 pandemic as there was an urgent need for blood.
Health Education, PPE, and Vaccination
SSSIOM also organized online health seminars on Covid-19 and other related subjects. In addition, SSSIOM donated personal protective equipment (PPE) such as masks, face shields, aprons, and full-body suits to various Covid hospitals to cope with their needs. In addition, Home-to-Home Vaccination programs were jointly organized with the National Cancer Society of Malaysia and the Ministry of Health Malaysia. Volunteer doctors vaccinated bedridden, disabled individuals and their caretakers.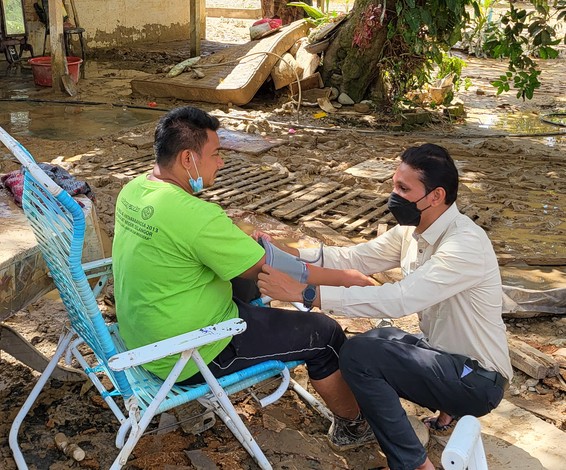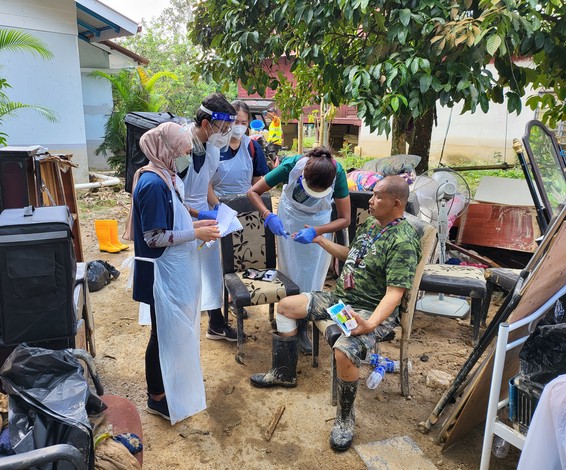 Vaccination Program
| | | | |
| --- | --- | --- | --- |
| March to August 2021 | Selangor Sabak Bernam | Home to Home vaccination program in collaboration with the Ministry of Health, Malaysia | 211 people vaccinated |
Medical Aid for Flood victims
At the end of 2021, Malaysia was affected by floods causing significant loss and destruction. Immediately, SSSIOM sent medical aid to affected areas to help the flood victims.
Medical Camps
The SSSIOM held five medical camps where they saw 580 patients. The table below summarizes the occurrences of medical camps.
Date
Location
Volunteers
Number of
People Served
December 19 & 20, 2021
Sri Muda
Doctors: 3
Dentist: 1
Pharmacist: 1
50
December 21, 2021
Hulu Langat
Doctors: 6
Dentist: 1
Pharmacists: 3
Nurses: 2
200
December 24-30, 2022
Kampung Dusun Tua, Batu 17, Hulu Langat
Doctors: 11
Pharmacist: 1
Nurses: 4
Medical students: 23
330
Sri Lanka
Sri Sathya Sai Suva Sevana – Palliative Care for the Terminally Ill
Inspired by the teachings of Sri Sathya Sai Baba, the Sri Sathya Sai Suva Sevana in Sri Lanka provides palliative care to terminally ill cancer patients free of charge. Inaugurated in July 2002, this hospice includes a unique Sarva Dharma (multi-faith) shrine where the residents, regardless of faith, can pray together. Final year medical students from the Faculty of Medicine, Malabe, undergo training in palliative medicine at this institution. In recognition of the services provided at this Hospice Center, the College of Palliative Medicine, Sri Lanka, felicitated Dr. Visvanathar Jeganathan, Central Coordinator of SSSIO Zone 4, at a ceremony on October 9, 2021.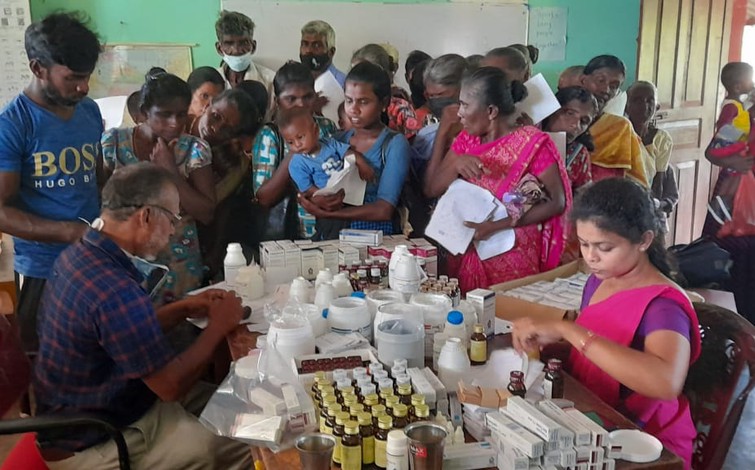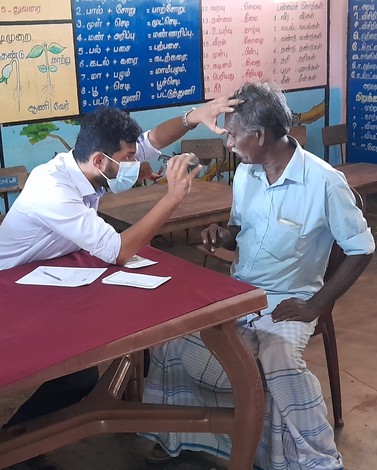 Medical Camp at Aadavan Vidyalayam
On April 18, 2021, more than 70 SSSIO volunteers from the Sri Sathya Sai Center Trincomalee organized a Medical Camp at Aadavan Vidyalayam to benefit 316 families in two villages: Uppooral (198 families) and Seenanaveli (118 families). The medical team comprised six medical officers, a dental surgeon, three dispensers, three public health midwives, and five paramedics. Services included screening for diabetes and hypertension, general checkup and treatments including management of skin diseases, eye examinations and treatment, dental evaluation, and medication management. A total of 167 patients were seen, and the Mobile Dental Unit treated 18 patients. Specially prepared protein packs were distributed to 123 children, 14 pregnant ladies, and 62 elders and patients, as recommended by doctors.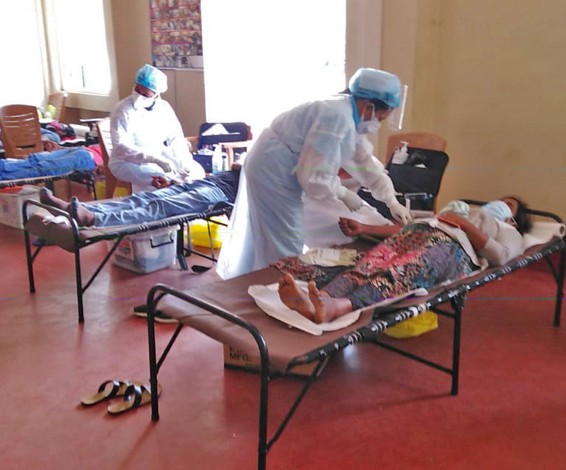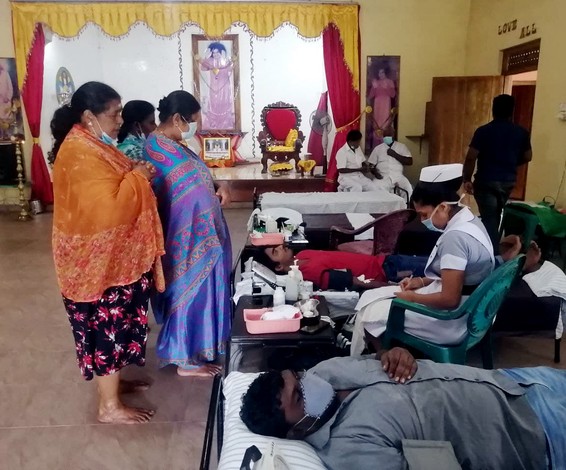 Blood Donation Camps
Blood donation camps were held in Akkaraipattu, Chankanai, Colombo, Jaffna, Kalmunai, Katkovalam, Point Pedro, and Talawakkelle.
Blood Donation
Date
Place
Number of Donors
April 11, 2021
Katkovalam, Sai Center
11
April 18, 2021
Point Pedro, Sai Center
32
June 10, 2021
Talawakkelle Sai Center
140
July 11, 2021
Akkaraipattu Sai Center
40
September 15, 2021
Blood Bank Colombo
23
September 20, 2021
Jaffna Sai Centre
33
November 7, 2021
Chankanai Sai Centre
11
December 6, 2021
Kalmunai Sai Center
51
Total
341
Cataract Surgeries
The SSSIO Sri Lanka conducted a total of 903 cataract surgeries:
North Central
Vavuniya: 796
Killinochci: 72
North Region
Jaffna: 35
Zone 6
United Kingdom
Health Awareness Webinars
In 2021, 3 healthcare awareness webinars were organized on Allergies, Covid-19 Vaccine, Hypertension, and Diabetes.
Blood Donation Camp
Thirty individuals gave blood at a blood donation camp.
Zone 8
Azerbaijan
Health Webinar
A pediatrician and a psychologist from Azerbaijan conducted a zonal webinar, attended by 43 SSSIO members, on "Attitude towards Oncology."
Medical Consultations
A total of 75 medical consultations were held for members of SSSIO and their families.
Psychotherapy Sessions
Five psychotherapy sessions were offered to SSSIO members during 2021.
Belarus
Health and Wellness Camp in Belarus
About 100 SSSIO volunteers from five cities in Belarus participated in a Health and Wellness Camp in the summer of 2021. The participants conducted several service activities. Additionally, they visited animal shelters and cared for abandoned dogs and cats.
Moldova
Health Lectures
Two public Lectures on "Human Health" were held for local communities.
Russia
Service in the Caucasus Region of Russia
Despite restrictions imposed by the pandemic, SSSIO volunteers in the Caucasus region of Russia continued to serve those in need and elderly members of their communities. In addition to food and clothing, they delivered medicines to a needy family and an elderly lady. The volunteers assisted an abandoned pregnant woman by supplying food and baby clothes, arranging for doctor's visits, and providing shelter. The volunteers also helped an elderly woman purchase needed medicines.
Health Webinars
Three regional online webinars on "Human Health" were held for the local communities.
Ukraine
Assistance to Patients in Need
Assistance was provided to bedridden patients unable to walk due to a serious illness, including buying and delivering medicines, purchasing groceries, and cooking and cleaning. Support was provided for two people undergoing surgeries. Additionally, a wheelchair ramp was installed at the residence entrance for a disabled person.
Zone 9
Botswana
SSSIO Health Clinic
The permanent SSSIO health clinic in Botswana continued to provide healthcare for patients.
SSSIO distributed oxygen concentrators at health facilities to help treat patients with COVID-19.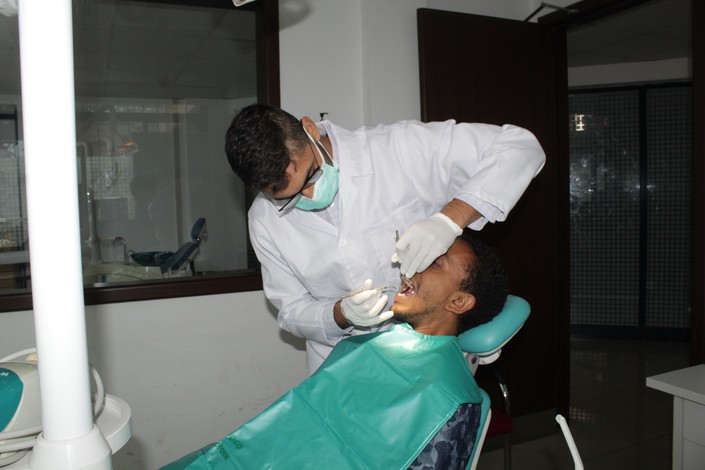 Kenya
Sathya Sai Centre Nairobi Medical and Dental Clinic
Between January and June 2021, 3,116 patients were served at the permanent Medical Clinic, including 1,466 new patients. In addition, 399 patients were served in the Dental Clinic, including 215 new patients. The laboratory associated with the Clinic provided laboratory tests for 1,898 patients during this time.
Mauritius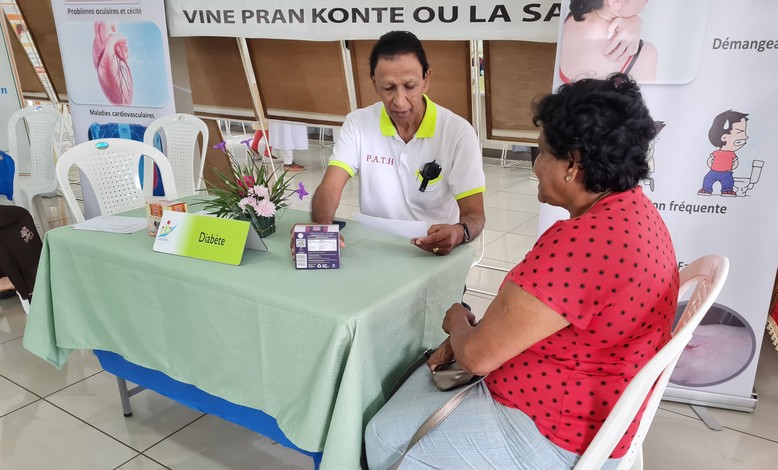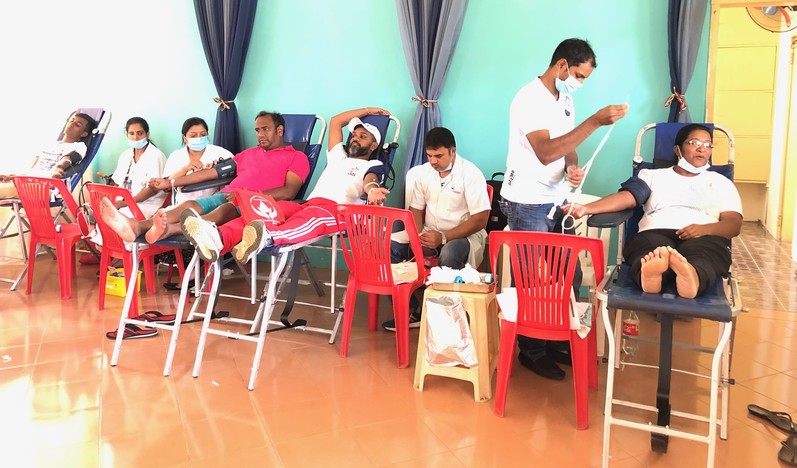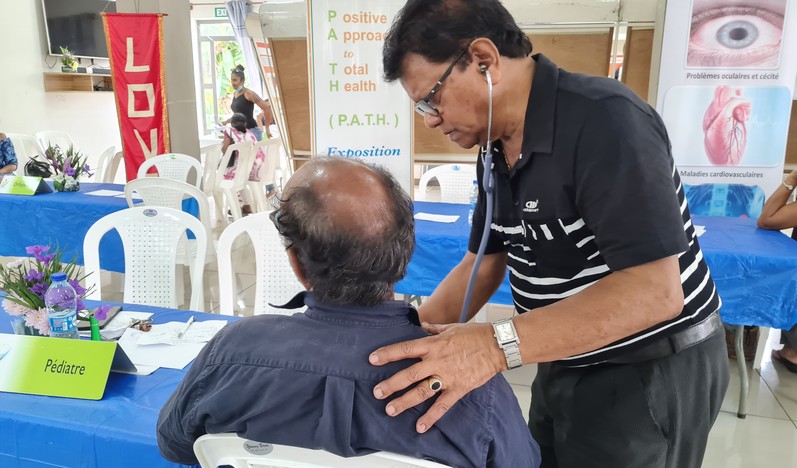 Annual Blood Donation Drives
Between January and March 2021, SSSIO volunteers collected 937 pints of blood during blood donation drives at various locations, including more than 500 pints of blood collected at a mega blood donation drive on January 1, 2021 – the event was broadcast on national television during the evening news. In February 2021, SSSIO volunteers organized five blood donation drives in three regions, and more than 430 pints of blood were donated. In March 2021, 37 pints of blood were collected during the peak COVID lockdown period.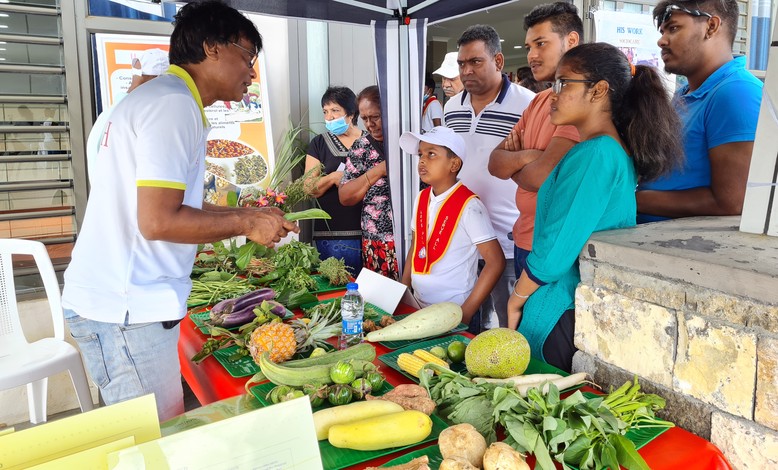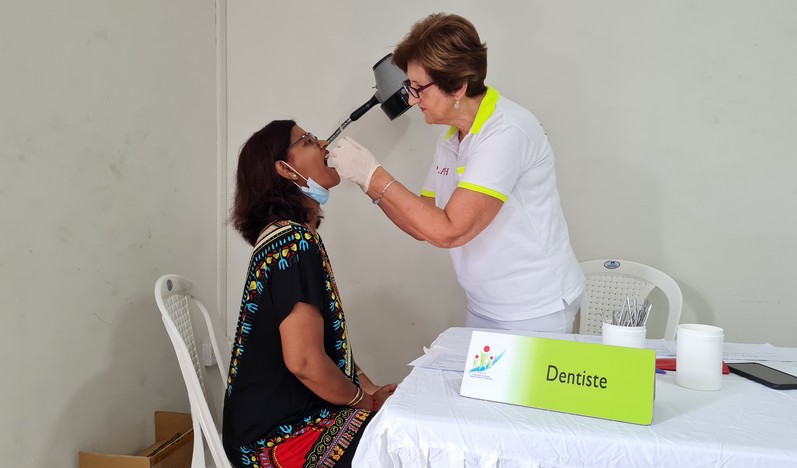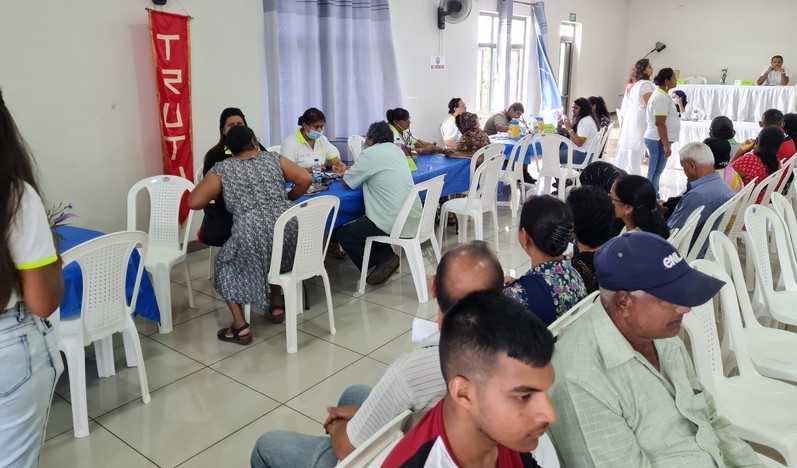 Mega-Medical Camp
On February 21, 2021, the Sri Sathya Sai Centre of Valory organized a mega-medical camp at the Petit Verger Multi-Purpose Hall. More than 200 patients received free medical screening for diabetes, heart disease, hypertension, and nutritional status, with the help of about 25 physicians and several nurses from a local Non-Government Organization. The volunteers also arranged transportation for elderly persons to avail of the camp's services.
Online Webinar on Coping with Stressful Situations
The National Young Adult Forum of the SSSIO Mauritius organized a Mental Health Workshop on March 26, 2021, titled 'Coping with Stressful Situations during Lockdown.' A therapist gave a talk on stress management followed by a Questions and Answers Session, focusing on coping with tension and stress and developing a positive outlook. Many young adults took the opportunity to ask questions related to issues surrounding COVID-19 and other stressful situations in life. The session was followed by demonstrations of stress alleviation techniques involving sports and cooking, which can keep people engaged and happy. In addition, it was pointed out that following Sri Sathya Sai Baba's teachings can be the biggest stress reliever and a calming force.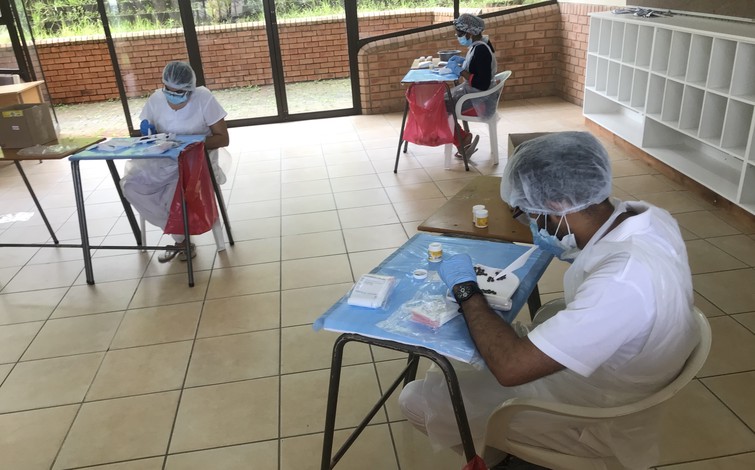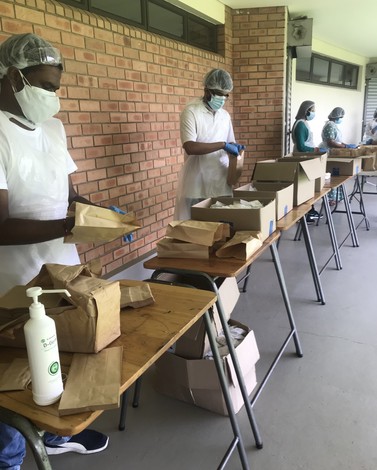 South Africa
Serving people during the Global Pandemic
On January 31 and February 21, 2021, around 50 SSSIO volunteers from seven regions in South Africa distributed vitamin packs (Vitamins B complex, C and D, and Zinc) along with information booklets on how to handle exposure to Covid-19 and combat the disease, and packets of Vibhuti to the needy, while following strict safety protocols. SSSIO volunteers distributed 1,350 packages (vitamin supplements, information booklets, and Vibhuti) to the elderly and needy and provided medical and psychological assistance by telephone.
The ladies' wing volunteers made 1,299 face masks and distributed them for personal protection. Additionally, they donated 350 masks to Gift of Givers, a non-profit organization. SSSIO volunteers distributed vitamins, hygiene packs, and energy boosts to families affected by Covid-19. Face masks, detergent, and lunch were distributed in Sri Sathya Sai Schools. SSSIO volunteers from the Pretoria region distributed over 200 PPE gowns.
Blood Donation Camps
Sri Sathya Sai Centers hosted blood donation camps under strict Covid protocols. To alleviate a shortage of blood supplies, the SSSIO supported the South African National Blood Services (SANBS) by setting up and preparing suitable venues for blood drive camps and promoting blood donations.
The Sri Sathya Sai Centre of Forderville, Estcourt, organized a special blood donation camp at a unique location at Wagensdrift Dam in the Midlands area of KZN. Blood donors were treated to beautiful surroundings and enjoyed oneness with nature while donating blood. During this blood camp, the SSSIO also promoted cancer awareness.
Sai Medical Clinic
SSSIO Forderville Medical Clinic reopened on a limited basis under strict COVID protocols to serve the surrounding community on weekends.
Vitamin Supplementation during COVID Pandemic
Vitamin supplements and medical information leaflets were distributed to the elderly and those in need, following strict COVID protocols. This initiative formed part of the SSSIO "ROSE (Reaching Out to Special needs individuals and Elders) FOR SWAMI" project to help prevent COVID infections by strengthening the immune system of vulnerable individuals.
Service to young patients with Eye diseases
With the support of the SSSIO, disadvantaged children and young patients were able to receive expensive prescription eyeglasses. This project served to prevent delays in treatment, supporting the prevention of blindness. The SSSIO also supported the treatment of young indigent patients with Vernal keratoconjunctivitis, a dangerous eye condition, and covered the high cost of medication. They also assisted patients who needed glass eye prostheses.