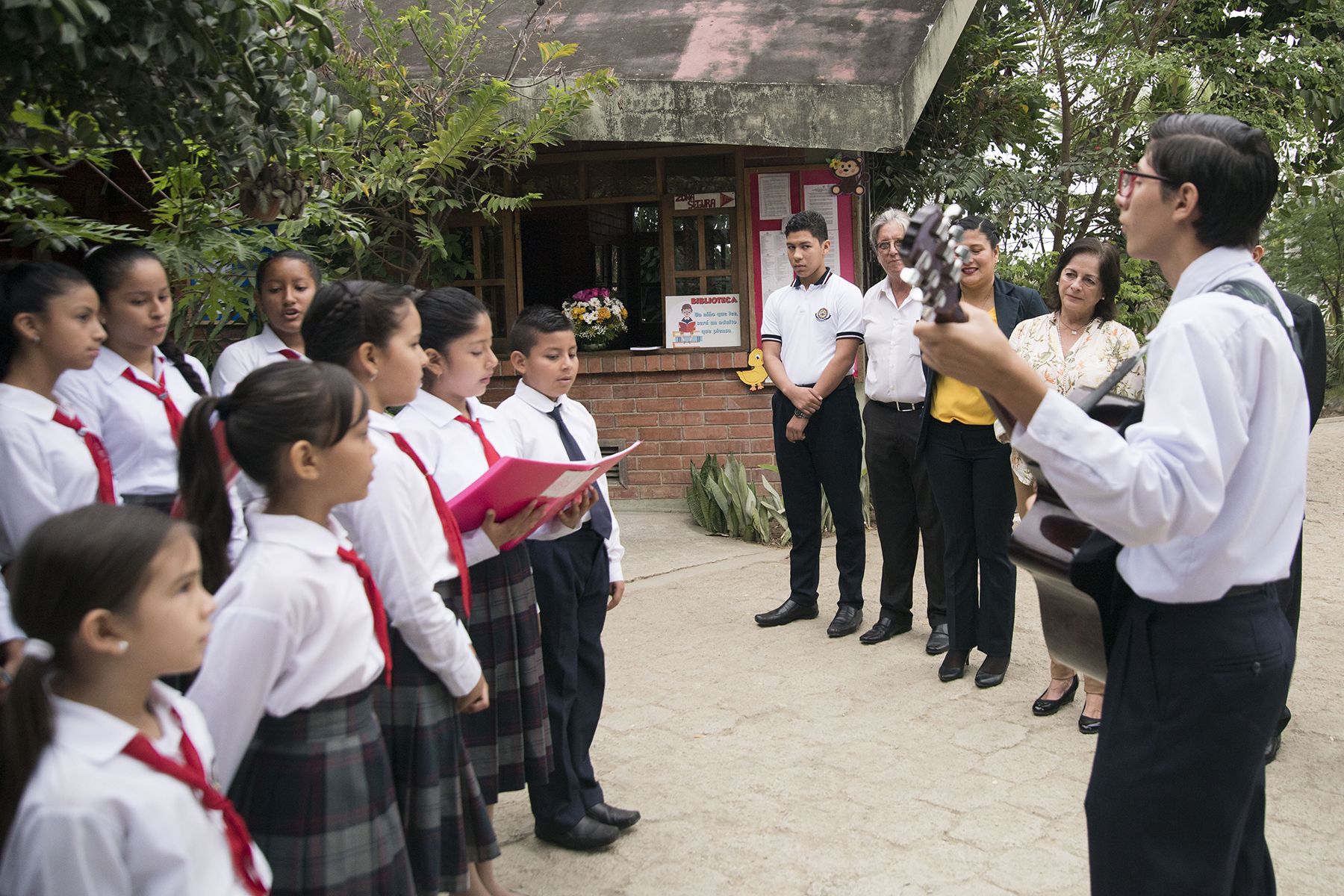 Education
Overview
Based on Sri Sathya Sai Baba's philosophy and teachings, Sathya Sai Education (SSE) gives equal importance to spirituality, human values, character, and educational achievements. There are 31 Institutes of Sathya Sai Education (ISSE) and 44 Sathya Sai Schools who conduct Sathya Sai Education in Human Values (SSEHV) programmes around the world. The Education Committee is working to accredit all Sathya Sai Schools, a collaborative process that aims to support each school by acknowledging the good work being done and working jointly on areas needing attention.
Zone 1
USA
The National SSE Enrichment programme, completed a quorum of teacher training and parent education, and conducted weekly webinars in 2019. During 2020, the training has been focused on online activities in response to the pandemic.
Canada
SSE children from Canada made significant contributions to the SSSIO International Guru Poornima celebrations. The Canadian ISSE has continued to develop the continuous delivery model for teacher training. The new curriculum includes expectations/outcomes for knowledge, skills, and attitudes by grade/division. Dynamic Value Parenting has been offered as requested by many Sathya Sai Centres.
West Indies
The ISSE West Indies organised a SSE teacher training programme in October 2019, inviting special trainers from the ISSE USA. They also conducted life skills training programmes for teens and Young Adults.
Zone 2A
Haiti
In Saint Raphaël, 32 teachers, school principals, and an education inspector from 6 different schools, were introduced to Sathya Sai Education. A second training session was held at the École Soleil de Hollande, a school with 700 students located in the mountains, with the theme, Creating an Environment of Love in the School. The advanced training held for 45 teachers was both practical and enjoyable. The principal noticed a positive change in the attitude and motivation of the teachers right away.
Mexico
The Sathya Sai School at Cuernavaca is in the process of expanding its space and student base. The acquisition of new space will allow for further growth. The Sathya Sai School of Chihuahua organised and conducted parent awareness and enrichment programmes. The SSSIO of Mexico organised SSE training sessions for teacher trainers.
Guatemala
The students of the Sathya Sai School of Guatemala, in collaboration with the SSSIO Education Committee, organised an innovative Self Leadership Training and Conference, Todos Unidos. The first cohort of nine students met once a week with the mentors from the International Education Committee for nine months, culminating in the first Todos Unidos conference at the School during 24 February–3 March 2020.
Zone 2B
Colombia
The ISSE Colombia gave SSEHV training in human values and parenting -- most of the attendees were from the community. The Sathya Sai School of Funza, located in a needy community, has continued to teach SSEHV to the students and their families, thus helping to transform the local community.
Ecuador
The Sathya Sai School of Guayaquil celebrated its 19th annual Sai Cultural Week, Celebration of Human Excellence, from 19–23 November 2019. The Sathya Sai School of Bahia de Caraquez and the ISSE worked collaboratively with the Ministry of Education to establish a National Council of Human Values. The ISSE and the Ministry of Education conducted a joint conference on SSEHV during 23–25 October 2019, attended by 600 people. This was followed by a week-long residential training for all ISSEs of Latin America at the Sathya Sai School of Bahia de Caraquez from 27 October to 2 November 2019.
Venezuela
The ISSE continues to provide SSEHV training and parent awareness programmes in the community. Despite the extraordinarily challenging situation in the nation, the Sathya Sai School of Abejales and the ISSE have continued their work with dedication and perseverance.
Peru
The ISSE Peru organised the Third International Forum on Excellence for Education in Human Values with the Ministry of Culture. The ISSE Peru has offered teacher training and other seminars for schools, especially in Lima and Cajamarca.
Brazil
The students at the school in Ribeirão Preto presented a special art exhibition downtown at the Museum of Art on 15 September 2019. The Sathya Sai Schools in Ribeirão Preto and Rio de Janeiro have been implementing the recommendations for accreditation.
Paraguay
The ISSE Paraguay is in the process of launching a new Sathya Sai School and have completed the requirements for formal governmental approval following which the school will open under the auspices of the SSSIO.
Zone 3
Australia
During April 2019, the Sathya Sai School initiated a Friendship Festival with 400 volunteers and participants from the SSSIO and the Murwillumbah community to build mutual understanding and cooperation. The school also won a local council environmental sustainability People's Choice Award with the slogan "Learning about litter, living life cleaner and making it greener". This comprehensive round of initiatives adopted by students, staff, and parents, has gradually improved the environmental awareness and culture of the community. The SSE Beyond 2020 initiative was launched in April 2019 to implement a future roadmap. The National Education wing of Australia also commenced weekly virtual SSE sessions to keep children and their parents connected to SSE.
Fiji
The ISSE Fiji has been actively involved since 2007 with the Fijian Ministry of Education in providing workshops for teachers in human values education. During 2019, five workshops were held with 88 teachers attending. The Sathya Sai School won the "Clean School Competition" in 2019.
New Zealand
The ISSE New Zealand (ISSE NZ) started an Emerging Leadership Training and in January 2020, teachers participated in a professional development workshop, Values Inclusive Leadership. ISSE NZ started Conversation about SAI, a new initiative to engage parents of SSE children to raise awareness of SSEHV at home.
Zone 4A
Nepal
SSE classes are conducted all over Nepal. The SSSIO of Nepal organised online activities, including essay writing, painting, and sketching for Easwaramma Day celebrations in May 2020. Online training of Education Coordinators of all the Sathya Sai Centres was conducted several times.
Sri Lanka
The SSSIO of Sri Lanka runs five pre-schools in the Mullaitivu District with a total of 75 students and 10 trained teachers. The teachers have participated in an SSEHV mentoring programme conducted by the SSSIO Education Committee in 2019. Online sessions were followed up by an onsite intensive three-day training for the faculty, staff, and alumni of the school. SSE teachers and coordinators participated in a national teacher training programme with over 200 teachers from all regions in 2019.
Zone 4B
In Zone 4B, there are a total of 6,627 SSE and SSEHV students taught by 810 teachers. The expansion potential in all five countries is still huge. The Sathya Sai Schools in the zone have 133 teaching staff and a total of 1,138 students. Every country has one primary Sathya Sai School each, with the exception of Indonesia and Thailand where the education extends to secondary schools.
Malaysia
A total of 303 participants benefitted from the Parent Care Programme through 40 trained facilitators in 2019.
Indonesia
SSE children were exposed to the idea of serving the elderly, feeding animals, and cleaning the beach to instil human values.
Philippines
Educational programmes are conducted on a monthly basis, from staging plays and choir presentations to engaging children in service activities.
Singapore
Regular visits to multi-faith places of worship were organised. An online human values art competition attracted entries from 150 children.
Thailand
The Sathya Sai School and the ISSE launched a programme for 450 children in a public school located in a challenging neighbourhood. Their English classes, infused with value-based teaching, has attracted students and is a unique way to teach SSEHV to the public.
Zone 5
Hong Kong
The ISSE Hong Kong conducted online training for postgraduate Education Faculty students in four universities and one teacher's college in mainland China. In this phase, called Teachers as Leaders, local educators received training to take leadership roles. An online alumni group has been established for mainstream primary school teachers who have participated in SSEHV programmes in mainland China over the past 15 years.
Taiwan
In July and August 2019, two summer camps were held at Fu-Sing Elementary School (Hsinchu County) and Chi-Shien Elementary School (I-Lan County). The camps, focused on writing and hand-made picture books, allowed students to use their head, heart, and hands to turn their feelings into words and pictures.
A four-day Sathya Sai Educare Camp was conducted at the Chinese Sathya Sai Centre by four volunteer teachers including a variety of activities focused on bringing forth their true inner nature. During the process, they inquired, "Who am I?" and searched for the answer, "I am love. God is love. Love is God".
Japan
From April 2019 to February 2020, the ISSE Japan offered weekly Japanese remedial tutoring and SSEHV classes for Spanish-speaking children in Yamato, Kanagawa.
Zone 6
The ISSE of South Europe provides training courses in Bosnia & Herzegovina, Croatia, France, North Macedonia, Greece, Israel, Italy, Romania, Serbia, Slovenia, Spain, and Switzerland. The seminars are held regularly in most of the countries for the diploma requirements.
The First South European Education Conference held during 1–3 November 2019, was attended by many teachers, educators, trainers and facilitators from Croatia, Greece, Israel, Italy, Serbia, Bosnia, Slovenia, and Switzerland. The ISSE Handbook "Sathya Sai Education in Human Values - EDUCÆRE - Education for Life" was presented to all participants.
Italy
The training programme on SSEHV for public school teachers is accredited by the Italian Ministry of Education, University and Research (MIUR). The course was conducted by two ISSE-SE certified trainers and lasted from December 2018 to May 2019.
Croatia
During 1–2 June 2019, a seminar was conducted by the ISSE SE team from Croatia for the benefit of participants from Rijeka, Sisak and Zagreb.
Greece
The ISSE team organised a series of monthly public meetings in Athens to raise awareness of SSEHV for the community. At the end of the school year an SSEHV Camp was organised at Sai Prema, Markopoulo, near Athens, from 29 June to 7 July 2019.
Spain
The ISSE-SE group of educators offered regular seminars in Nejra (Málaga), Camprodón (Girona) and Barcelona.
Zone 7
Lithuania
The European Sathya Sai Education (ESSE) Institute introduced the principle of Educare with interactive lectures and workshops to 39 participants from Lithuania, Latvia, Estonia, and Poland to convey how daily practice of the five human values can lead to character transformation.
Latvia
Public school teachers were introduced to the principles of Educare. Participants actively took part in the workshops and found the topics relevant in their personal life. During Easter, adults and children participated in the annual Earth Day project with the theme, How to Protect Nature.
Germany
Regular workshops were conducted on the theme, Human Values in Professional Life, allowing the participants to deepen their understanding of the integration between private and professional life for character transformation. The SSEHV projects were focused on the needs of refugee children, building bridges via universal human values between children with different cultural backgrounds at school, and the transformation of service providers when they listen to their hearts and focus on love.
Lithuania
Self-awareness workshops were held on a monthly basis to explore and deepen spiritual developments. The participants were inspired and found the teachings clear and tailored to their individual abilities.
Netherlands
The SSEHV club for children ages 6-9 conducted weekly sessions. A new interactive initiative called, Heart for each other Storytelling, Theatre & Writing Club has reached out to 50 children ages 4-13. SSEHV Workshops have been arranged for adults working with children who have limited knowledge of Dutch.
Poland
As part of the Education in Human Values through Theatre project, children of age 12 - 15 presented a play on the topic, Here and Now - Put down your phone. With remarkable success 18 SSEHV sessions were introduced to 40 residents of the Legionowo region. The three-hour sessions created strong bonds between the group members. The North European SSEHV teachers and project leaders came together for a weekend in Poland to share their inspirational work and learn from each other.
Zone 8
SSEHV resources for the public are regularly posted on the Facebook page, Spiritual and Moral Education and on the website with the same name.
The 17th Regional Conference on Education was held from 29 to 31 March 2019. It was attended by 75 teachers from 33 cities of Zone 8, as well as guests. The programme included creative reviews of the work of the SSSIO Education Wing in five countries, including seven regions of Russia, followed by presentations by teachers. Educational projects for the public were presented to showcase the methods used to promote SSEHV.
An interregional youth conference and festival, Green Planet is our Home, was organised on 6 -7 January 2019 to give teenagers the opportunity to gain skills in leading events, while experiencing unity and cooperation. They prepared presentations with adult mentors. The programme also included round tables, group devotional singing, meditation, songs, skits on universal values, dances, and nature walks.
The ESSE Institute conducted courses and training in May 2019 for 113 participants. About 50 SSEHV projects were carried out at the zone level by the most experienced SSEHV teachers and ESSE coaches.
Zone 9A
To meet the demands from about 20 countries in Africa, with 3 ISSEs and 12 Sathya Sai Schools, the SSSIO is working to establish local leadership through facilitators trained in SSEHV and to create new ISSEs to handle the rapidly growing needs.
South Africa
The formal SSEHV certificate training programme was offered to schoolteachers, SSSIO members, and the community at large. SSEHV Workshops were offered to public school teachers, public outreach leaders, SSE teachers, parents of school children, youth leaders and others. The Sathya Sai School, Chatsworth received notice of accreditation from the Department of Education Umalusi.
Kenya
The SSSIO of Kenya received a letter of appreciation from the Ministry of Education for outstanding academic performance by the Sathya Sai School in Uthiru on 28 May 2019. The Sathya Sai School, Uthiru was accredited by the SSSIO Education Committee in November 2019.
Mauritius
The Sathya Sai School in Vacoas also received their accreditation certificate in November 2019. The ISSE was re-launched in Mauritius with 20 members committed to support the Sathya Sai School, community SSEHV classes and teacher training. As part of the Go-Green drive, the school organised an exhibition on human values and Go Green projects in May 2019.
Morocco
The SSSIO of Morocco hosted SSEHV Workshops for parents of school children in the Tamazouzt Partnership School in Marrakech. With support from local authorities, eye camps for children were organised at the school.
Zone 9B
Abu Dhabi
Around 100 SSE children and their parents participated in the annual sports day conducted on 8 February 2019. The outgoing SSE children of Group 3 shared their experiences in a gratitude programme conducted on 24 May 2019. On 20 December 2019, the SSE wing conducted a four-week workshop called, Sathya Sai Parent Care.
Bahrain
The SSSIO of Bahrain conducted a poster design competition for the SSE children on 1 November 2019 on the topics: Save Mother Earth; Good Habits; Safe Drive, Save Lives; and Great Mothers of Great People.
Saudi Arabia
On 6 Dec 2019, the SSE children conducted a unique gratitude program, aimed at reinforcing the importance of respecting and honouring parents. About 120 people participated in this programme.